Mersey Waterfront project to light up the River
SPECTACULAR special lighting effects are set to flood the Mersey, transforming it into a River of Light with funding from Mersey Waterfront.

Lighting designers from around the world are being invited to submit plans that will light-up large stretches on both sides of the river from the Runcorn Jubilee Bridge to Fort Perch Rock in Wirral, and Southport Promenade in Sefton.

Mersey Waterfront has approved funds totaling £55,000 for this important feasibility study which will also be funded by Wirral Waterfront and Liverpool City Council.

The proposed scheme features innovative lighting designs and effects to show off Liverpool's world-famous waterfront buildings, and is part of the City of Light strategy led by city centre regeneration agency Liverpool Vision and Liverpool City Council and its major partners.

Thomas O'Brien, Chief Executive of The Mersey Partnership said:- "The River Mersey presents a unique canvas on which to paint a spectacle of light of world stature. The funding will be used to engage consultants from far and wide, to produce a lighting master plan and feasibility study for the River Mersey. The waterfront is a key component of the City of Light strategy and the proposed River of Light offers enormous potential."

Elsewhere on the river, Mersey Waterfront has also approved further funding of £52,500 to find the best ways of devising and delivering dramatic improvements to landscaping, access and signage around Pier Head. The intention is to create an "environmental renaissance" around the famous waterfront location.

BRITAIN TO CELEBRATE AUSTRALIA DAY THE TIM TAM WAY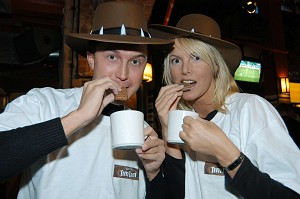 PEOPLE across Britain celebrated Australia Day this year by joining a world record attempt on the Tim Tam Slam. Some 30,000 were thought to have simultaneously dunked and sucked the renowned Australian biscuit at 48 Walkabout venues across the country last night.

The ritual of the Tim Tam Slam, enjoyed by Australians whenever they can get their hands on a packet of Tim Tam biscuits, involves biting off opposing corners of the biscuit and sucking tea, coffee or other beverages through it.

Though widespread in Australia, the practice has only really caught on in the UK since the launch of Tim Tam biscuits here last year.