BACK TO BUSINESS
THE REQUIREMENT for UK workers to get back to business as quickly as possible in January 2004 has caused one restaurant chain to extend its opening hours to cope with the demand.

Little Chef Restaurants in St Helens have ended their winter opening hours early this year in response to customer needs, in particular the business customer. The extended opening hours will now mean the UK's leading roadside restaurant chain will open from 7am to 9pm, and until 10pm at sites adjacent to a Travelodge.

"We've noticed a marked increase in trade and footfall during our early morning sessions this January compared with January 2003," comments Marketing Manager for Little Chef Mark Owen. "Increasingly more workers, who are commuting to and from work or business meetings, are choosing to use us as a half way point for business meetings or to catch a decent breakfast before the day ahead; putting greater emphasis on earlier opening times.

And towards the end of the day we're experiencing a strong demand to be open later for customers travelling overnight or working longer, more erratic hours."

Jobs on the horizon at Merseyside firm
NEW JOBS could soon be up for grabs at a fast growing Merseyside firm which is aiming to increase its turnover to £6m by 2007.

Award winning Birkenhead-based MD Insurance Services have recently moved to larger premises and are undertaking massive growth in both turnover and employees.

A key part of the business's success has been vital help from Business Link for Greater Merseyside in securing IT guidance to support the business's growth.

Managing director Gary Devaney said the IT project means that MD will become a more competitive business in a national marketplace.
"The current infrastructure is prohibitive to growth, and better systems will lead to greater referrals from the Council of Mortgage Lenders. We will be more efficient to support both existing and additional business, and this project will reduce manual inputting and avoid duplication,"

We will be ready and able to take on additional schemes, and overseas business will be more likely to be gained, such as in New Zealand and Spain. There is a potential increase to turnover which could total £6m within two to three years." he said.

MD, who are now based in Himson Street, off Argyle Street, started out as a sole trader in 1997, have grown rapidly and are now one of only three companies who are recognised by the Council of Mortgage Lenders to broker warranties issued on new-build houses. Their main marketplace currently is mainland Britain and Ireland.

From having seven employees in December 2002, expansion to date has already brought in an extra 10 employees, and there are plans for a further seven by the end of 2004. Mr Devaney has targeted a workforce of 40-plus by 2006.

MD recently won the National Award Schemes Intermediary of the Year 2003 title at the Insurance Age Awards for its progress so far.

The company received a 40% discount on the IT project programme by going to Business Link for Greater Merseyside.

The Growing Merseyside Enterprise programme can offer a subsidy of up to 40% for SMEs across Merseyside when they work with one of their approved suppliers.

IT help was provided by Computer Centres UK.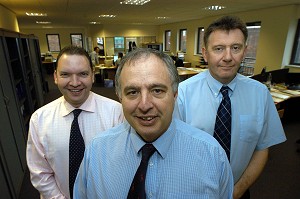 Pictured above:- Robin Plaster, director of sales and marketing, managing director Gary Devaney and underwriting director Ian Turnick.