Arriva Approach Public Consultation With An Open Mind
Report by Chris Amery BSc(Hons)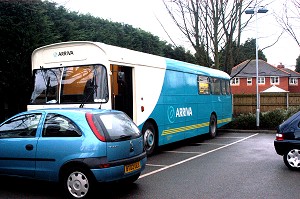 A PUBLIC consultation into concerns of local people about the proposed cancellation of Arriva's 47 loop service was attended by over 200 local residents on the 27 and 28 January. The consultation, held by Arriva in Formby Library's car park, intended to find out how often local people travel on their buses, where they travel from and to and at what times. There was also an opportunity for the residents to voice any other concerns about Arriva's bus services.

One local resident was concerned about possible changes to the 47 service. She said:- "please bring it back, it's like losing a member of the family. It's a vital service for the community." Another member of the public added that:- "I hope Arriva are going to listen."

Derek Bowes, Arriva's communications manager, was keen to stress the importance of the public voicing their concerns to help them in determining the company's future strategies. Arriva have said that they will use the public's feedback in order to try to provide the most cost effective, high quality service that they can and there would be no snap decisions made and were approaching negotiations with an open mind.

A further consultation is scheduled for Saturday January 31 for those residents who were unable to attend during the week. Members of the public can contact Arriva direct on 08701201088 or 07004277482, to either order a questionnaire or to give any direct comments. Alternatively, you can express your views by writing to:- Mr R A Hind, Managing Director, Arriva, 73 Ormskirk Road, Aintree, Liverpool, L9 7AE.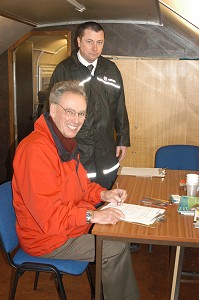 13 YEARS FOR NORTH WEST COCAINE PAIR
TWO Rochdale men were jailed today for a total of 13 years after pleading guilty to smuggling over £200,000 worth of cocaine through Liverpool John Lennon Airport.

Following an 18-month Customs and Excise investigation, Gary Goulding, 36, and Thomas Smith, 40, were arrested following the discovery of amounting to 2.9 kilos of the drug, having a street value of £213,000 for the charge of possession with intent to supply after an eighteen month investigation.

Goulding, of Wycherley Road, Spotland, Rochdale was jailed today at Manchester Crown Court for six years, while Smith of 18 Daniel Fold, Spotland received a seven year sentence.

The court heard how Goulding and Smith arrived at Liverpool Airport on September 15 2002 after traveling from Amsterdam. Customs officers became suspicious after watching both offenders' movements and then acted on a tip off to intercept their suitcases containing the drug wrapped in a towel. A third man was also arrested on similar charges of smuggling the contraband connected to the Rochdale pair. His failure to attend court has led to a warrant issued for his arrest.

Customs Assistant Chief Investigator Peter Hollier said:- "An 18-month investigation has led to Customs officers breaking up a professional smuggling team and seizing a significant quantity of Class A drugs. This shows Customs' commitment to helping reduce the amount of harmful drugs reaching our streets."
STAY SAFE IN THE WINTER WEATHER, URGE RAC PATROLS
THE Motoring organisation RAC's and its 1,500 patrols are urging motorists to take extra care and ensure that they know how to handle their vehicle in the winter weather for the forthcoming week.

Icy conditions are likely to cause driving difficulties which the RAC reminds us that extra care should be taken with slower driving speed speeds and to alter gear changes to compensate for the unruly conditions. The hazardous snow and ice forecast for the forthcoming days has been given a severe weather warning status for all travelers.

Drivers are reminded to leave their mobile phones fully charged and to ensure they have high energy food and warm clothing along with medicine in their cars in case of traffic jams or accidents they may encounter in the next few days for the duration of every journey.