TV CELEBRITY SHOW SENDS BRITS WILD BUT JUNGLE TRIPS CAN KILL IN THREE DAYS
TV phenomenon, 'I'm a Celebrity Get Me Out Of Here' is again sending the country wild, with three quarters of the UK public putting adventure breaks at the top of their holiday-wish list. However, Churchill Insurance is warning those thrill-seeking travellers devoid of a TV back-up crew that the jungle's countless dangers means that without the right food and care they would be lucky to survive in such heat and humidity for more than three days.

Churchill's travel expert, Paul Whymark said:- "The celebrities' camp seems full of fun, but jungles can be extremely dangerous, and travellers must ensure that they are fully prepared for any trips of this kind. While it may be obvious that bites and stings are common, people often overlook basic necessities like water, and in fact dehydration is one of our most common 'jungle' claims.

Apart from animal bites, slips and trips, the jungle is also rife with disease and infection. One of our customers was travelling to Cambodia when he contracted Haemorrhagic Dengue fever. As the medical conditions and treatment at the hospital in Phnom Penh were very basic, we had to get the customer transferred to Bangkok, Thailand for further treatment. The total cost of the transfer and treatment was £3400, which was settled direct with the operating companies and the hospital."

For viewers watching this year's programme and thinking about booking a trip into the unknown, Whymark has the following advice:-

"People should make sure they seek medical advice and get the necessary vaccinations before they travel to ensure they have the maximum protection – prevention is always better than cure. See below for a list of prevalent tropical diseases which are typically contracted in jungle-type environments."

1. Malaria - This is a life threatening disease transmitted by mosquitoes, which if not treated, can kill. The symptoms include fever, headaches, vomiting and flu.

2. Dysentry – This is an acute bacterial infection of the gut and is highly infectious. It is caused by poor hygiene and is common in extreme parts of the world. The symptoms are diarrhoea, fever, nausea or vomiting, and abdominal pains.

3. Dengue Fever – This is a viral disease transmitted to humans by an infected mosquito. It is primarily found in the tropics. Symptoms are high fever, severe headaches, body & joint pains, vomiting, eye pain and rashes.

4. Typhoid - This is a serious systemic infection that is contracted when people eat food or drink that has been infected with salmonella. The symptoms are fever, severe headache, nausea, loss of appetite, cough and constipation or diarrhoea.

5. Tick bourne fevers - This is a viral infection of the central nervous system, transmitted by bites of certain ticks. Human infections occur usually in persons who visit or work in forests, fields, or pastures. Consuming unpasteurized, dairy products from infected cows, goats, or sheep also generates infection. Symptoms are fever, headaches, nausea and vomiting.

SWITCHED ON THIS WEEK - THE BEST BITS ON TV
Written by Caren Clark of TV and Satellite Week Magazine.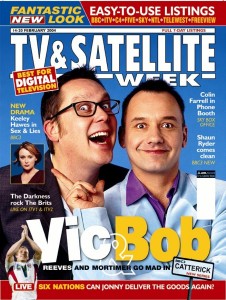 For the week Saturday 14 February to Friday 20 February
1 . The Regency House Party, Channel 4, Saturday, 9.05pm, NEW SERIES, The dating show genre gets an historical twist when 10 aspiring Mr Darcys and Elizabeth Bennetts spend a summer of love in Georgean splendour complete with chaperones, banquets and a household of servants.

2. Back to Reality, Five, Sunday to Friday, 8pm and 11pm, NEW SERIES, Big Brother's Jade Goody and Pop Idol's Rik Waller are among the former reality stars trying to grab another 15 minutes of fame as they battle it out to be crowned Most Popular Reality TV Star Ever.

3. Shaun Ryder: The Ecstasy and the Agony, BBC3, Sunday, 9pm, The former lead singer of the Happy Mondays speaks frankly about his battles with drugs and how he is trying to alter his life after his hell-raising days at the heart of the Madchester scene.

4. The British Academy Film Awards BBC1 Sunday 10pm The stars of the silver screen dig out their glad rags to celebrate this year's cinematic achievements.

5. Vic and Bob in Catterick, BBC3, Sunday, 10.30pm, NEW SERIES, Reeves and Mortimer return to our screens in this bizarre new sitcom as Chris and Carl, two brothers who head to Yorkshire to find Carl's estranged son. Matt Lucas, Morwenna Banks and Tim Healy co-star.

6. Live at Johnny's, BBC3, Monday to Friday 8pm, NEW SERIES, Johnny Vaughan presents a star-studded nightly chat show - from a garden shed. Joining the 'Shedmates' to round up the day's events will be Johnny's glamorous assistant Lauren Laverne and his pampered pooch Harvey.

7. Dunkirk BBC2, Wednesday to Friday, 10pm, NEW SERIES, A three-part docudrama examines the evacuation through the eyes of soldiers, civilians and decision-makers, including Churchill (played by Simon Russel-Beale).

8. Cyderdelic, BBC3, Monday, 11pm, This spoof fly-on-the-wall documentary stars My New Best Friend's Mark Wootton as one of a group of anti-capitalist protesters who aim to spread peace and love as they tour the country in their converted ambulance.

9. Sex and Lies, BBC3, Friday, 10pm, Keeley Hawes stars in this one-off drama as a young woman who claims a colleague raped her. He, however, he has a very different view of events. Who is telling the truth?

10. Harry Hill's TV Burp, ITV1, Friday, 11pm, NEW SERIES, The bespectacled comedian returns with more merciless observations on the week's telly.

VARIATIONS:- None

OUR READERS SPECIAL OFFER:- Subscribe to TV & Satellite Week for only £9.99 every 3 months!
Call 0845 676 7778 quoting your special code of 27B or visit www.ipcsubs.co.uk/TVS/itsg