WIN THE ULTIMATE GIRLS NIGHT IN WITH SOUTHPORT REPORTER & Mersey Reporter
LAMBRINI is offering one lucky reader (plus 5 of her best friends!) everything they will need for the ultimate girls night in – from the perfect music to dance around the living room to, to mini bottles of Lambrini to drink It girl style through a straw to help them party their way through the cold winter months.

January is traditionally time for a social slump following the festivities of the Christmas and New Year period with millions of people in the UK making New Year's resolutions.

The good news is a survey by drinks manufacturer Lambrini has discovered that more socializing is high on the list of the UK's resolutions this year, with 36% of women surveyed resolving to make more time for friends and family.

The post festive slump, coupled with the frosty January weather can be off-putting when planning nights out with friends. The perfect antidote is a cozy girls night in with all the little luxuries that make it that little bit special.
Here are our 4 questions:-
1. What is the end of this advert quote? "Lambrini girls just wanna have....."

2. Add the correct number to this:- "Available in nearly every supermarket and off license in the country, this refreshing, lightly sparkling perry is so popular it sells over ???? million bottles a year!"
Is it:-

a) 40
b) 187
c) 1000000
d) 3

3. Red Square is the UK number one vodka and caffeine-based pre-packaged spirit, like Lambrini, it is made by

a) Halewood International
b) USSR International
c) Halemans Vodka
d) USSR Vodka Ltd.

4) What is the favourite light wine of all women?

a) Dad's 1066 AD extra strong embalmed non-alcoholic mead
b) Charlotte Bronte's fortified deodorant spray
c) Lambrini
d) Uncle Lenin's unauthorized moonshine

Email us at:- fun-to-night@southportreporter.com All who enter must be 18+ and must give the following:-

Your answers, full name and address and your phone number. All players must be in the UK. The winners name and details will be passed on to Lambrini who will contact you. We will also announce the winner next week! All submissions must be in by 4:30pm Friday 13 February 2004. Good Luck!

More competitions will be held over the next few weeks!

"Fame" Search for a Star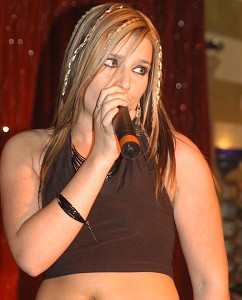 THE venue was packed out. Ok, contestants did not come from Spain this week, the greatest distance was the West Midlands, but that was no comment about the talent that was on display on 5 February at Casablanca (Pleasureland Southport). The night started fantastically, and ended with an unbroken high standard that gave the judges a very hard time deciding who would go through to the next heat. Singing on Heat 3 was, John Maloney; Vivien B; Julia McCarthy; Adam Hayes; William Regan; Rachel Cottam; Michael Ryder; Caroline England; Claire Hayes; Bethany Greenway; Mark Birch; Nicky Soffovth; Sophie Graham; Alix Drennan; Danieue Cavey; Jade Porter; Chris Davis; Jenny O'Connar; Jenny Smith; Paula Wallwark; Mathew James; Sally Shepherd and Darren Hilton.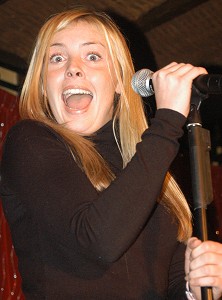 Next week, at the same time 7:00pm at Casablanca, there will be a lad from South Africa competing! So do not miss it.
Well done to all who entered heat 3 and good luck to all those in heat 4.
Page 1 of 5 (Click below for page 2.)