NEW NAME FOR THE SOUTHPORT SBC CINEMA!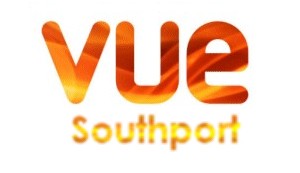 Vue's acquisition of the Warner Village multiplex cinema circuit took place on 13 May 2003. The combined SBC and Warner Village circuit comprises 40 state of the art cinemas throughout the UK which welcome over 25 million attendances per year. The cinema circuit is number 1 in London and number 2 in the UK overall, in terms of gross box office. This week Vue Entertainment, who are now the UK's leading state-of-the-art multiplex cinema operator, announces the exciting news that Southport's Cinema will become known as Vue as of the 9 Febuary 2004. This is the first major cinema launch for many years and as such a significant event.

Vue in Southport will continue to show a great choice of movies delivered using the latest Dolby Digital Surround Sound and the best screen technology. The majority of Vue cinemas have first class stadium seating with extra stretch leg room.

As part of the rebranding process, all Vue cinemas are going through a major 'refresh' program focused mainly on the public main foyer areas. This will give the cinemas more welcoming feel aimed at appealing to a wider audience – a core value of the Vue brand proposition.

Comfort is also a key part of Vue's service proposition and with this in mind, all cinemas will have casual seating added in foyers. This, combined with a brighter and less noisy environment will help customers feel more relaxed. The new more appealing environment will be further enhanced with new staff uniforms which underpin the value the company puts on great customer service delivered by friendly people.

Tim Richards, CEO of Vue said:- "We are very excited about the launch of the Vue brand across the UK. Among many other initiatives, the cinema refresh program will deliver a noticeable positive change to our customers. Further medium term and site specific improvements are already in hand; as such this is just the beginning of very dynamic future for Vue."

He added "With cinema attendances set to remain buoyant, Vue is ideally placed to lead the way in cinema operation, development and design, with the sole aim of delivering the highest possible cinema experience provided by friendly and welcoming people… we want our customers to ENJOY THE VUE".

Vue cinemas – See it, Live it

The key stake holders in Vue include, Boston Ventures, Clarity Partners and Legal & General Ventures.
Local Student Plant Manager Award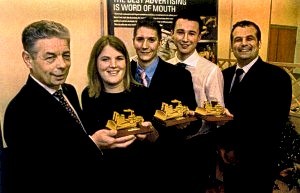 A STUDENT from Liverpool has won a prestigious plant management award and an all expenses paid trip to Malaga, Spain with equipment manufacturer Caterpillar.

Richard Carmichael, 21, won the Top Plant Management Student accolade sponsored by Finning UK as part of his Construction Engineering & Management degree at Loughborough University.

The plant management award is part of a four year university course taught by Dr David Edwards which aims to prepare students for a career as a construction manager. The plant manager assessment required students to have an understanding of topics such as health and safety, purchasing, finance, maintenance and operator training.

Richard Carmichael aged 21 sponsored by Bovis Lend Lease will travel to Caterpillar's European demonstration and learning centre in Malaga with runners up Stephen Ford aged 21 and Gemma Potts aged 22. the classmates will have the chance to operate the latest Cat construction equipment and gain useful insight into the world of Caterpillar.
TOAST OF THE TOWN IN THE NORTH WEST
WITH the hectic pace of working life that has become the normal, breakfast is often the casualty of the day with many of us missing it. But a recent survey reveals this is not always the case as toast with butter is one of the great pleasures of life, namely for its simplicity.

Surprisingly over half of people in Lancashire, Manchester and Liverpool enjoy toast smothered in butter and consider eating it to be a pleasurable experience. The survey reveals some rather weird and wonderful locations to enjoy for example 'in bed' on mother's day and in prison on remand, "falsely accused" according to butter manufacturer kerrygold.

Brendan Doyle, Kerrygold marketing director said, "We targeted men and women in all regions, with 61% being in the 35-44 age group, and 85% working either full or part-time. the results prove that buttered toast is the favourite, not only in the north west region, but in the UK as a whole."

Nationally, breakfast is the most popular time to eat toast with 87% of all votes compared with just 2% enjoying it at lunchtime or as an afternoon snack. So it seems the northwest is a region of butter lovers, and its people really know how to make the most out of their toast.