PERSONAL BANKRUPTCIES 'HIGHEST IN A DECADE'
AS the number of personal bankruptcies reaches its highest level for more than a decade, PKF accountants and business advisors warn that further interest rate rises will swell the ranks of debt-ridden Liverpudlian's.

More than 100 people a week are now being declared bankrupt, an increase of 28.9% on the figures just a year ago. The average debt burden has risen from 54% of average earnings in 1993 to 70% in 2002 which means that an adult earning the national average wage of £24,164 is now likely to owe £17,044. debt counsellors are also reporting a 25% surge in the number of calls received in the first weeks of 2004 compared with the same period last year.

John Newell, partner at PKF in Liverpool, said:- "The combination of record levels of consumer debt and the new provisions of the Enterprise Act 2002 which discharge most individuals from bankruptcy after just a year is likely to encourage people to choose bankruptcy instead of facing up to their debt mountain. Whilst being declared bankrupt is never going to be a pleasant experience, 12 months is not a long time and the relief of wiping clean the debt slate may be a stronger incentive than coping with the worry of rising debt."
Driver training team signs up

DRIVER training experts BSM are sending instructors and staff from their Liverpool centre on a special course to learn the basics of British Sign Language in a bid to provide additional support to deaf learner drivers.

The customised training has been set up by voluntary organisation DRIVE-TRU and is designed and delivered by qualified tutors at the Merseyside Centre for Deaf People in Queens Drive.
Full details about driver training, including BSM Mobility tuition, are available from BSM in Merchant's Court, Derby Square, Liverpool on 0151 709 2476 and the BSM website www.bsm.co.uk


LEARN TO SIGN....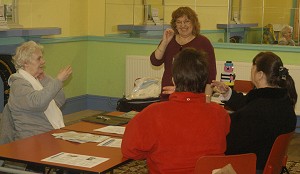 LOCAL group Practice Makes Perfec have anounced a large influx in people signing up to learn Sign Language. If you want to learn, the group meets on Mondays at Elim Church from 6:30pm to 8:00pm and on Thursdays from 1:30pm to 3:00pm at THe Temperance Hall on London Street.(next to the ALbert Pub ) email Maureen at Maureen@doyle140.freeserve.co.uk for more information