AGE CONCERN WINNER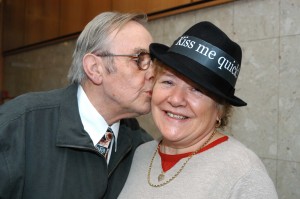 AGE Concern Liverpool has been an integral part of the local community since 1928 and has helped millions of older people in the last 75 years. As part of the Age Concern Liverpool's 75th Anniversary a grandfather from Wavertree in Liverpool has put an end to the February winter blues by winning £750 in the latest prize draws. Mr Joseph Cusack who is 68 and is an Age Concern Insurance customer and will be presented with his prize at a special ceremony at Age Concern Liverpool. Mr Cusack plans to use his winnings to take his wife for a weekend away by the seaside, as soon as the weather improves! Since 1983, the organisation has been providing a wide range of Insurance products and services at the request of older people themselves. With all products designed specifically for the over 50s, fully trained staff and volunteers provide a face-to-face service and explain the benefits of all products clearly without any obligation. That is why over 25,000 older people in Liverpool choose Age Concern Insurance products every year.

Joseph says:- "This is a great windfall which means my wife and I can treat ourselves to a weekend away to Blackpool. I support the work Age Concern Liverpool does throughout the city, and I'm glad to know that buying my home insurance through them helps the organisation to continue this good work"

The £750 prize draws are being held as part of a year-long celebration to commemorate Age Concern Liverpool's 75th Anniversary. The draw is open to all new and existing Age Concern Insurance clients in the city of Liverpool who pop into their office for a free Household Insurance quotation. A further two draws are scheduled to take place before September 2004, giving more local people the chance to win £750!

Adds Joseph "It's worth popping along to Age Concern Liverpool as you could end up with a pleasant surprise windfall that makes a big difference!"

Phil Hughes, Business Development Manager at Age Concern Liverpool said:- "We are celebrating 75 years of working with the community within Liverpool, and it's fantastic that Mr Cusack can join in our celebrations by winning this prize. With two more draws still to go, we are very much looking forward to meeting our next lucky £750 winner in May."

All you have to do to be in with a chance of winning is call into Age Concern Liverpool's office at 5 Sir Thomas Street, Liverpool, and ask for a free, no obligation quotation for Household Insurance. Their friendly staff and volunteers will explain all the benefits fully, and enter you into the draw. If you are already one of their Household Insurance customers, you can still enter the draw by taking your renewal notice into their office and have your policy reviewed. Staff will clearly explain all the benefits of cover available through Age Concern.

They're open Monday to Friday 9am to 4pm. or call 0151 330 5555 if you need directions or more information.