ORANGE GOES LIVE ON CHILDLOCATE
A REVOLUTIONARY security system for Parents to locate the whereabouts of their Children via their Mobile Phones known as ChildLocate is now fully operational in the United Kingdom.

It is natural for any parent to care at all times about their children as nature and nurture set in to the roles of parenthood. Sadly, these days we need to be extra vigilant and often we need reassurance that our children are safe & sound.

A service developed in Iceland in 2001 and serving many thousands of families in Finland is now fully functional in the UK. Initial trials with 3 out of the 4 UK Mobile Operators has been extended and the ChildLocate service is fully operational across Vodafone, T-Mobile, 02 and now Orange.

This secure service is simple to use, fast and discreet and is obtained instantly by accessing a webpage which shows the mobiles location on a map. It can also be accessed by using a mobile phone, which indicates the area by text. The service also benefits users in the UK as there are no upgrades required and there is no new hardware to buy.

With ChildLocate, parents can request confirmation of the location of their teenage children without the need of making embarrassing phone calls to the teenager's mobile phone.

"Research shows that parents are working longer hours and therefore are forced to spend more time away from home. This means a large number of children as young as 7 are travelling alone or with friends to and from school. ChildLocate gives parents the reassurance as to the whereabouts of their children by enabling them to keep track of them from their working environment" says Jon Magnusson, Managing Director of ChildLocate.

If the worst happens minutes are often critical and knowing the location of our kid's mobiles can direct family or emergency services to a particular place quickly.

ChildLocate is an inexpensive service which enables an entire family to benefit from one monthly subscription fee of £9.99. The monthly fee includes 10 free location requests and 10 free text messages.

Stringent security and privacy features are built into the system to prevent unauthorised persons from using it. Parents and legal guardians are only allowed to locate their own children with ChildLocate and the system verifies the identity of it's customers to avoid abuse. The child is in full control of its privacy and is notified on a regular basis as to who has permission to locate it.

Air Link To London Takes Off From Liverpool John Lennon Airport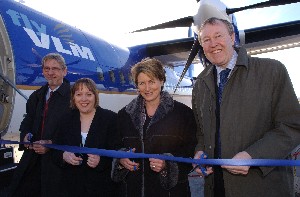 FROM Monday 23 February Liverpool's link to the Capital was restored as the first flight of the day took off at 06:35 from Liverpool John Lennon Airport to London.

A number of guests from the region's business community were joined by politicians and representatives from the media to travel on the official VLM inaugural flight from Liverpool to London City, marking the beginning of a service offering 5 flights each weekday one on Saturday and two on Sunday.

Merseyside MP's Maria Eagle, George Howarth, Louise Ellman and Dave Watts who have been key supporters of the campaign for an air link to London, cut the ribbon across the steps of the Fokker 50 aircraft before boarding the flight to London.

Neil Pakey, Managing Director of Liverpool John Lennon Airport and Johan Vanneste, Managing Director of VLM joined a packed flight of guests and passengers eager to take advantage of the 1 hour service to London. City - the only airport actually located in the capital with the City Centre only 6 miles away.

Speaking at a celebratory reception for passengers before departing Neil Pakey said:- "This is another important day for the Airport and for Merseyside. This much awaited service is essential for the region's business community and opens up numerous tourism opportunities ahead of Liverpool status as European Capital of Culture in 2008. VLM have made a tremendous commitment with this service and I am confident it will prove to be extremely popular."
Identity of Deceased Man Sought
POLICE on Merseyside are appealing for information which will help to solve the identify a man who has died at the Royal Liverpool Hospital after being found unconscious, in a wheelchair, in Thackeray Close, Toxteth.

The man was found by passers by shortly after 3pm on Thursday 26 February and taken to hospital by ambulance. There are no suspicious circumstances surrounding his death.

The man is described as approximately 40 to 50 years old, 5ft 8ins tall with a very slim build. He has collar length grey hair and the beginnings of a goatee beard. He has a visible scar on the right side of his forehead. He was wearing a blue jacket under a red fleece, black jeans and black boots. He also had a fluorescent orange sleeveless jacket with him and a purple electricity card in the name of M Turner.

Anyone with information please call Crimestoppers on 0800 555 111