Local School Shortlisted for £5,000 Award
STUDENTS and teachers at St John Bosco High School, Liverpool, have been nominated for a national award for their innovative work with a new school sports initiative Living For Sport.

Shortlisted from over 40 schools, St John Bosco High School is one of ten schools selected in recognition of their achievement in developing valuable interpersonal, leadership and coaching skills by using sport to motivate and engage pupils.

Students from Year 11 took part in a team-building day involving a variety of outdoor activities including canoeing and archery. As well as giving them the opportunity to have fun whilst learning new sports, the activities helped students to develop negotiation, co-operation and motivational skills.

Following the team-building day a group of 25 students were given responsibility for helping teachers prepare and run PE classes for Year 7 students and organising a Football Festival for local primary schools.

Sue Hussey, PE teacher, St John Bosco High School, said:- "Living For Sport has provided us with a valuable tool to help empower our students. As a result of the challenges they have been given the students have grown in confidence and developed new skills that can be transferred to other aspects of their school life. Living For Sport has been so successful that it has become an integral part of the school timetable."

The winning school will be presented with their £5,00
Road Safety Funding Welcomed
AN announcement that Liverpool is to receive more than £1m for road safety measures has been welcomed by the city council.

The funding is under the Government's Dealing with Disadvantage initiative to address road safety problems in poorer areas.

Councillor Peter Millea, Executive Member for Regeneration, said:- "This is excellent news for Liverpool. It will enable us to target more effectively several areas where we can improve road safety. We are determined to make Liverpool a safer city and this funding will help us to do that."

Liverpool is one of only four authorities in the country to receive funding from this initiative which encourages new and innovative thinking.

Whole lotta givin' goin' on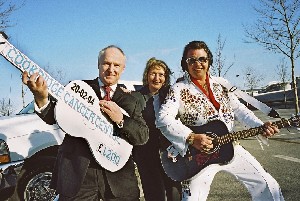 Photograph:- Elvis lookalike Louis Rockafella, is pictured with Sheila O'Shea of Cookridge Cancer Centre and White Rose Centre manager Peter Cook.
SOUTHPORT'S very own "King" has made a sentimental journey back over the Pennines to collect money raised by shoppers for a cancer centre where his mother died.

Cookridge Cancer Centre in Leeds benefited to the tune of £1,200 from the generosity of shoppers at White Rose Shopping Centre in the city over the Christmas period.

The money was handed over to award-winning Elvis lookalike and soundalike Louis Rockafella of Scarisbrick whose mum Betty received treatment at Cookridge before losing her brave battle against cancer last October.

White Rose Centre Manager Peter Cook said:- "When Louis asked us if we could support him in his fundraising efforts for Cookridge we were delighted to donate money collected from families that visited our Christmas grotto."

He added:- "White Rose Centre shoppers are always very generous and I'm sure they will see this as an important cause to support."

Louis who has been stepping into the King's blue suede shoes for ten years, said:- "My mum absolutely adored Elvis and I used to cheer her up when she was feeling a bit low with some of his famous songs that including her favourite The Wonder of You."

He added:- "The money from White Rose is a fantastic boost to the fundraising effort and will be added to the proceeds from a charity concert that I am giving at East End Park Working Men's club on Thursday evening."

The money raised at White Rose will go towards the purchase of new ECG monitoring equipment for use in the outpatients unit at Cookridge and the centre's fundraising manager Sheila O'Shea said:- "We are extremely grateful to the management, staff and shoppers at White Rose and to Louis and his family for their fantastic efforts on our behalf."