Local Wood to be Revitalised
SHORROCKS Hill Wood on Lifeboat Road in Formby is set to be revitalised when replanting work starts next week.

More than one and a half hectares of the ten hectare wood is going to be replanted with young Corsican and Scots pine trees, after old trees were felled as part of ongoing management work.

The work is being carried out by a contractor as part of the Sefton Coast Woodland Forest Plan, and the mix of trees has been chosen to afford the red squirrel with a long term and reliable source of seed. Explains Paul Nolan, Director of The Mersey Forest:- "In some years, one species of tree can have a 'bad seed year', and not produce very much food. By mixing the species, it ensures that the squirrels will have an alternative source of seed".
Coroner´s Appeal
THE Coroner's office in Southport are trying to trace the relatives of two men, Roger Holt and James Clarke both from Southport.

Roger White Holt, whose last known address was Flat 2, 34 Seabank Road, Southport died on 21 February aged 67 years.

The second man, James Stuart Clarke, whose last known address was Flat 5, 217 Meols Cop Road, Southport died on 20 February aged 49 years.

There are no suspicious circumstances into either death.

Any relatives are asked to contact the Southport Coroner's Office on (44) 0151 777 3480 or (44) 01704 531643.
SMALL SCALE BINGO
THIS WEEK the HMCE Business Brief article announces an amendment to paragraph 5 of Schedule 3 to the Betting and Gaming Duties Act 1981, which increases the money prize limit for small-scale commercial bingo. This is good news for small bisinesses who like pubs and other small venues who have bingo.

Exemption from bingo duty exists for small-scale bingo provided commercially which pays out limited money prizes. The Department for Culture, Media and Sport regularly review the monetary limits for bingo played under these circumstances and the last increase raised the prize limit to £25. Since Customs normally shadow the social legislation, this new Order (The Betting and Gaming Duties Act 1981 (Bingo Prize Limit) Order 2004 (SI. 2004 No.155), has also increased the money prize limit exempting small scale commercial bingo from bingo duty from £15 to £25 with effect from 20 February 2004.
IS THIS A PHONE MAST.... NeRrrr, IT'S A TREE?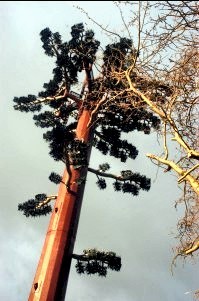 WELL woodpeckers will be baffled this spring just like many motorists were as they headed into Liverpool this week. T-Mobile was constructing the fist mobile tree mast, that is designed to blend in with woodland landscapes. This one on Orrell Hill Lane escaped the notice of the pub staff at the Pheasant, next door, who were alerted to its presence by customers. They told us that "It is fantastic. it helps us get good reception in one of the worst black spots in Merseyside and on top of that it blends in fantastically. We only noticed it when customers asked what was being built." T-Mobile said that the fake leaves will be replaced each year and the mast repainted to keep it blending in with the woodland.