Bitch about!
Roberta Lee Comments on… "Welcome or not¿"

THE open-ended questions of the public on Merseyside, personally investigated by Roberta Lee our very own local celebrity.

First, thank you to all the lovely people who have contacted our friends at Southport Reporter. Welcome to my small comments section, that aims to investigate matters that affect us all on Merseyside. Please keep emailing and phoning in your ideas as to what you want me to cover/uncover. Tar and let's get on with the show!!!!

This week we start the section off with… "Why does it say welcome on Southport Station to people who are leaving Southport instead of welcome to visitors arriving?" Thanks Lynne Rowe.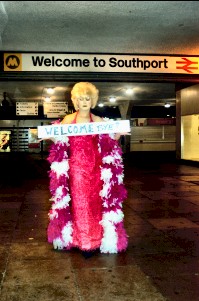 Well we have taken up the task to find out why for you. The Station, as we all know in Southport needs revamping to give a good impression of the town to visitors. The Station doesn't seem pleasing to the eye at the best of times and tourists, when leaving should see a sign that should say "Southport thank you for visiting." instead of "Welcome to Southport." Small details like this count a lot and this one has been overlooked for some time now. It would be nice if it said, "Welcome to Southport." on the side that people who are arriving see, rather than an advert for Ocean Plaza! Tourism is the main business for the town and revamping the station is a huge importance to the first impressions of a visitor to our fantastic resort. First impressions count, so do leaving ones. If the station was modernised, it would attract in more businesses and more tourists, by making the town look cleaner and making people feel more welcome and safer.

We will bring you the results of our personal investigation, next week.

Life if short, so keep smiling now…
Roberta Lee xXx
Sandstormers Latest.
THE Southport Rugby League team's game at Rochdale was postponed on February 28 due to a frozen pitch. This Saturday's game on March 6 is away at Widnes.
Simply Red's Mick Hucknall to chair An Audience with Alastair Campbell in Manchester.
THE Singer Mick Hucknall will be guest Chairman for the interactive Question and Answer session where the audience asks the questions at Manchester Bridgewater Hall on Tuesday 16 March at 7.30pm. Manchester is the next stop for Alastair Campbell on his UK tour of his popular show An Audience with Alastair Campell.

Mick is looking forward to the challenge of chairing the session where Manchester audiences put questions to Alastair Campbell. "I'm delighted to be chairing the audience with Alastair Campbell" says Mick. "I have known 'Big Al', as I call him, for some time and he is a good friend. We both love our politics and we love a good argument so it should be the right mix of serious and fun. I'm really looking forward to it."

At London's Royal Festival Hall on 1 March over 2000 theatre goers filled the auditorium for An Audience with Alastair Campbell making it the most popular
talks event ever on London's South Bank outselling Mo Mowlam, Tony Benn and Woody Allen, Ross Kemp was guest chairman for this event. "I'm delighted that Mick Hucknall will be sharing the stage with me and chairing the questions on 16 March in Manchester, I just hope no one asks me to sing!" Says Alastair.

Alastair Campbell is the latest signing to Clive Conway's impressive list of politicians, opinion formers and decision makers who are engaging in lively political debate with the British public. UK theatregoers are flocking to regional theatres throughout the country to talk politics and current affairs with public figures such as Tony Benn, William Hague, Lord Tebbit, Martin Bell, John Sergeant and Ann Widdecombe among many others.

During his time in Downing Street, Alastair Campbell, Tony Blair's former Director of Communications and Strategy, was involved in all the major policy issues and international crises he says "In ten years in the media, and a decade in politics, I have seen my respect for the media fall and my respect for politics rise." He continues to advise Tony Blair informally. UK Theatre have the unique opportunity to come face to face and put questions to Alastair Campbell.

Tuesday 16 March 7.30pm… Manchester's Bridgewater Hall. Box office 0161 907 9000.