Exclusicve Interview... SWINGING SKELLIES

Photograph by Patrick Trollope
MEETING up with Neville Skelly at Liverpool's Andersons Bar on what was to be yet another cold winters day and ironically not the ideal setting for a jazz star whose appearance is more likened to that of a footballer than of an up and coming jazz musician, was to be a tete a tete of unequalled profoundness.

His demeanour is rather unwavering, yet well spoken, sharp, yet very composed and very focused on his destiny as he relaxes under our spotlight pressure in mastermind fashion. But the composure of cool is even more so remarked by his dress sense of shades, a stench of David Beckham and blues-brotheresque attire which strikingly conflicts with the jazz fraternity, that amounts to a welcoming and bubbly person to interview.

The histrionics of Skelly recount from life beginning in Toxteth, whereby a rich background of going against the grain reveals why jazz may have been an obvious avenue for the makings of a person that was to strike out into uncharted teratury for most people with is background. "As a kid I had lots of exposure to the music as my Dad had it on all the time. He opened the door for me, to the world of jazz. I just got hooked. My friends thought I was mad, but I loved the music. It has so much expression in it and is timeless. It does not have the trappings of modern pop culture and is what it is is what it is."
He started his jazz career in the boozy East-end London pubs and clubs after leaving school, but was soon picked up by Cunard and became the youngest ever big band singer on the Cunard cruise liners, one of which is the QE2.

But the love of jazz for him is more deep rooted than the life of the sea and after 18 months of fine tuning on the cruise liners, a passion that had been in his family for decades, made him move on to pastures new. Now well trained and with experience in different styles of jazz from all over the world he set his mind to going solo. It was this attitude that was to set up a greater road of fame and hopefully he says his fortune.

During the interview the feeling the message of bringing 'a new feel' to jazz was the prevalent emphasis and yet his music still confounds his vision by carrying that famous overstated big brass sound. But awkwardly admits that despite his big ideas and underlying natural traditions overrode his first release, "Who can says what is jazz. Jazz is improvisation and the expression of feelings. That is what jazz is all about. You cannot put a label on a piece and to say that is and that is not jazz is not all that easily.

It is like pop, the boundaries are not fixed as clearly as people in the media tend to portray or should I say try to portray. I want to show that I can do the basics with the art form. I will add my own standards and ideas to the next one. It is like being a painter, first you have to pay homage to the old and show you understand the routs of your medium."

The band that shaped his now fast growing fame formed in 2003, and is his first very own band as a solo artist. This fist CD was more or less a personal homage to the founders of Jazz that hails to the likes of Fred Astaire and Bobby Darin. Despite having a desire to make a mark on a music medium that demands self expression or bust.

"I want to make my mark and I hope to be just as influential as any jazz artist that have been a prevalent part of the past for future generations. I did the first CD as a thank you of thoughts to all who came before and have given me the passion for this music. I now want to see how I can add to this fantastic musical form, my own input.", He says vehemently.
I had to the ask what he thought the media was doing now to jazz scene and what its impact on him and big band jazz will be "It is hard to say, but peoples tastes are becoming far more open now, thanks to things like Jazz FM and other stations that are opening this form of music up to the masses. I got my foundation through my dad and that mix of culture and music provided me a eclectic appreciation for music. I think jazz is becoming increasingly popular and far more expectable with in society now thanks to the media.
The fear I have and other jazz singers and musician, is that the media will try and cash in to the growing popularity and over hype it. Just like they have done with the pop industry. At the moment the market is open to a huge diversity of styles, but if the industry tries to package Jazz as a brand, this will kill the progression of the music and the result will be bad. We just have to wait and see.
I think the growing popularity makes it far easier for me and other musicians interested in Jazz to make and should pave the way, to making the music even more acceptable by the masses and hopefully it will encourage others to do as I did. Take up music, or should I say Jazz!"

And speaking of the future he hopes that Liverpool Capital of Culture scene for 2008, will inspire others to take up his passion as the city is exposed to all types of culture and music from all over the world.
If you want to hear him you can get his CD from all good record stores and from Liverpool's HMV. It is called Swing Mania. Also you can see him and his band live on 16 April at the Liverpool Royal Court at 7:30pm… BOOK NOW as tickets will sell fast. We wish him the best of look and look forward to his next CD.
"Fame"
Search For A Star The Semi Finals. Week 1.
Photographs by Patrick Trollope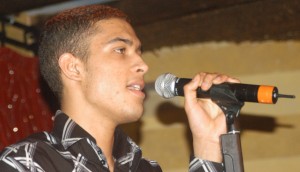 THE semi finals at Casablanca (Pleasureland) started this week on a high note on the 11 March. 17 out of 24 contestants have been chosen for the final to be held on the 1 April 2004. If you missed this semi final the next one will be on the 18 March at 7:30pm at Ricks Bar, Casablanca, and Southport.

This semi had the young lady from Spain over again, but sadly she did not make it through to the final. The competition was tough and only a point separated most from the winning 17 contestants. Their names will be in next week's issue of Southport Reporter. Well done to all of you who came along to the semi and put on such a stunning show. It is a shame that all of you could not go through and I would not like to have been the judges as the talent was so good.

At the end as the judges made the hard decisions, Mark, the soundman took to the stage and kept the tense crowed entertained as he sang some country numbers.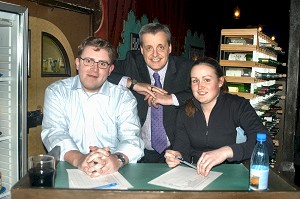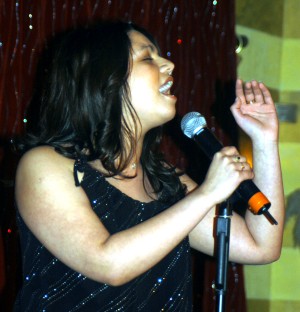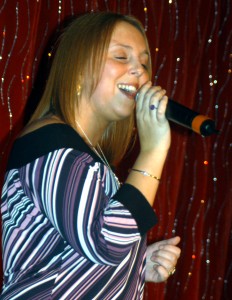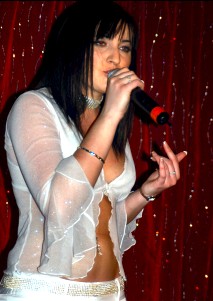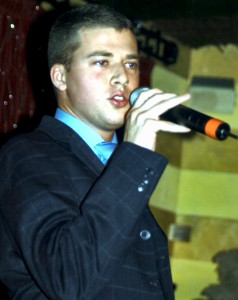 If link above is not working, install java Script.
Page 1 of 4.