Eggcitement for all ages this Easter…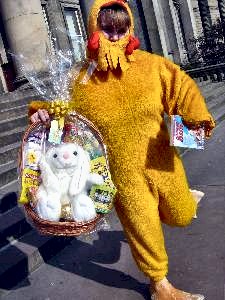 THERE is an 'eggs-cellent' programme of fun free activities for all ages at National Museums Liverpool this Easter, including creative workshops, hands-on fun and roleplayer characters bringing the displays to life.

Plus in a special Chicken Run competition children aged 16 or under could be a clucky winner! It's free to enter and simple to do. Just follow the Chicken Run trail round National Museums Liverpool's venues over the Easter holidays to find the answers to easy questions about our feathered friends.

When you've answered each question take your answer card to the information desk staff, who will give you a stamp each time you get a question right. When you've finished hand your card in to the information desk at any of the museums or galleries to receive a reward. The more stamps you collect the better your prize will be, and if you have 2 or more stamps you will be entered into a free prize draw to win an eggciting Easter treat.

Admission to all eight of National Museums Liverpool's venues is free.
Venues are open every day during the Easter holidays. Merseyside Maritime Museum, Museum of Liverpool Life and Customs & Excise Museum are open daily 10am-5pm Liverpool Museum, the Walker, Conservation Centre, Lady Lever Art Gallery and Sudley House are open Mon-Sat 10am-5pm, Sun 12-5pm.
Late opening until 7pm every Thursday at the Walker

Terms and Conditions for Chicken Run competition Competition open to children up to 16 years old. Closing date for entries Sunday 18 April 2004. Prize draw will take place on Wednesday 21 April and winners will be notified by post. No purchase necessary. No cash alternative.
EASTER FUN AT NATIONAL MUSEUMS LIVERPOOL
All eight of the National Museums Liverpool are open every day during half term.
Entry to all venues and events and activities are all FREE. Times and dates may change - please ring the information desk on the numbers listed below to check details before your visit.
EVENTS AND ACTIVITIES ARE AS FOLLOWS:-

Artbase at the Lady Lever Art Gallery
Lady Lever Art Gallery, Port Sunlight
0151 478 4136 www.ladyleverartgallery.org.uk

Free arty activities for children of all ages are available from the Artbase, including an animal picture trail around the gallery, jigsaws and colouring in fun. Available downstairs in the Leverhulme Gallery every weekend during term time and every day during the school holidays.

Easter Artbase at the Walker
the Walker, William Brown Street, Liverpool
0151 478 4199 www.thewalker.org.uk

Families can enjoy special themed activities for the Easter holidays at the Artbase. Follow the Easter trail, try on a costume, listen to a springtime story, or do some colouring-in. 3 to 18 April, 10am-5pm Mon-Sat, 12-5pm Sun, 10-7pm Thurs
Flag it up! at the Customs & Excise Museum
Customs & Excise Museum, inside Merseyside Maritime Museum, Albert Dock, Liverpool
0151 478 4499 www.customsmuseum.org.uk

To celebrate the Capital of Culture theme for 2004 of Faith in one City, visitors can help to design and create a flag which shows what 'faith' means to us. The flags will be hoisted and flown around the city in June. Saturday 3, Sunday 4 April, 12.30-3.30pm

Tribal Body Art Workshops
Liverpool Museum, William Brown Street, Liverpool
0151 478 4393 www.liverpoolmuseum.org.uk

Face and hand painting sessions inspired by non Western cultures Saturday 3, Sunday 4, Saturday 17, Sunday 18 April, 12.30, 1.30, 2.30 and 3.30pmAt home with the piermaster and family in the 1940s
Museum of Liverpool Life, Pier Head, Liverpool
0151 478 4080 www.museumofliverpoollife.org.uk

The dock's best kept secret! Glimpse life during World War II at the Piermaster's House, near the Hartley Bridge in the Albert Dock. The house is open every day, but you can join the piermaster's wife for special events on the following dates.

Free tour tickets from Museum of Liverpool Life information desk. Meet the piermaster's wife - Saturday 3, Sunday 4, Monday 12, Wednesday 14, Saturday 17, Sunday 18 April, 1.30-4.30pm. Guided Tours - 1.30, 2.30 & 3.30pm on Wednesday 7 April.

Museum of Liverpool Life, Pier Head, Liverpool

Continuing the series of free adult learning days suitable for anyone interested in the museums and local history. No previous skills or experience are necessary, just come along for a day of lighthearted discovery. In this session you can discover the history of Liverpool, as a port, a place for worship and a venue for fun and entertainment through its historic buildings. The day will include a walk around the city during the afternoon. Places are free but limited, please phone 0151 478 4441 to book or find out more about other adult learning days across National Museums Liverpool's venues. Saturday 3 April, 10.30am-4pm

Picture Blitz
Museum of Liverpool Life, Pier Head, Liverpool
0151 478 4080 www.museumofliverpoollife.org.uk

Free creative family activities for under 5s. Saturday 3, Sunday 4, Sunday 18 April, 1-4pm

Punch & Judy
Museum of Liverpool Life, Pier Head, Liverpool
0151 478 4080 www.museumofliverpoollife.org.uk

Traditional entertainment. Saturday 3, Monday 5 April, 1pm, 2pm & 3pm Behind the Scenes Studio Tours Conservation Centre, Whitechapel, Liverpool
0151 478 4999 www.conservationcentre.org.uk

A chance to see what goes on in the Conservation Centre's state of the art studios, where all sorts of different items from the collections from motorbikes to tapestries and from paintings to pots are preserved by specialists. Pre-booking is advisable on 0151 478 4999. Saturdays and Wednesdays, 2pm and 3pm

Stranded …family activities
Conservation Centre, Whitechapel, Liverpool
0151 478 4999 www.conservationcentre.org.uk
A free series of fun family activities stimulated by the Strands exhibition. Saturday 3, 10 and 17 April, 1.30, 2.30, 3.30pm

Stranded
Conservation Centre, Whitechapel, Liverpool
0151 478 4999 www.conservationcentre.org.uk

Thread your way through our Easter family activities - all with a textiles theme to link to the Strands exhibition. Monday 5 to Friday 9 and Monday 13 to Friday 17 April, 1.30, 2.30, 3.30pm

Radio NML
Museum of Liverpool Life, Pier Head, Liverpool
0151 478 4080 www.museumofliverpoollife.org.uk

Meet our resident radio presenter for a light hearted look at Liverpool entertainment. Monday 5, Tuesday 6, Tuesday 13 April, 1.30, 2.30 & 3.30pm
War Babies
Merseyside Maritime Museum, Albert Dock, Liverpool
0151 478 4499 www.merseysidemaritimemuseum.org.uk

Drop in for a chat and let us remind you what it was like to bring up babies and young children during the war years. Tuesday 6 April, 1-4pm
Lights out!
Merseyside Maritime Museum, Albert Dock, Liverpool. 0151 478 4499 www.merseysidemaritimemuseum.org.uk
Meet Albert the ARP Warden on the Spirit of the Blitz gallery as he recalls tales of wartime Liverpool. Wednesday 7, Saturday 10, Monday 12, Wednesday 14, Sunday 18 April, 1.30 2.30 & 3.30pm

Tours of current building work
Liverpool Museum, William Brown Street, Liverpool
0151 478 4393 www.liverpoolmuseum.org.uk

Have a look at the exciting new developments that are currently underway at Liverpool Museum. Wednesdays 7, 14 and Saturdays 10, 17 April, 2pm

Easter Picture Blitz
Museum of Liverpool Life, Pier Head, Liverpool
0151 478 4080 www.museumofliverpoollife.org.uk

Join us for an Easter eggstravaganza - make Easter cards, find out how eggs were decorated and try out the old custom of egg rolling. Free creative family activities for ages 2 and over. Wednesday 7, Saturday 10, Sunday 11, Monday 12 April, 1-4pm

An Internee Remembers
the Walker, William Brown Street, Liverpool
0151 478 4199 www.thewalker.org.uk

A free talk in the Art Behind Barbed Wire exhibition by Lord Moser, who will be talking about his wartime experiences as an internee at Huyton internment camp. Wednesday 7 April, 1pm

Flag it up! at the Maritime Museum
Merseyside Maritime Museum, Albert Dock, Liverpool. 0151 478 4499 www.merseysidemaritimemuseum.org.uk

To celebrate the Capital of Culture theme for 2004 of Faith in one City, visitors can help to design and create a flag which shows what 'faith' means to us. The flags will be hoisted and flown around the city in June. Thursday 8, Friday 9, Friday 16 April, 1-4pm

Fakes, fags and Fiends Gallery Tour
Customs & Excise Museum, inside Merseyside Maritime Museum, Albert Dock, Liverpool
0151 478 4499 www.customsmuseum.org.uk

Customs and Excise made easy! Meet a member of the Learning team and find out about the history of smuggling and the role of Customs today. Thursdays 8 & 15 April, 2pm & 3pm.

Thursday Late Opening at the Walker

If you can't get to the Walker during the daytime why not take advantage of the extended opening hours every Thursday until 7pm. This is an excellent opportunity to see the new exhibition Art Behind Barbed Wire. You can also peruse over six centuries of art in the Walker's outstanding permanent collections and discover exactly why it is known as the national gallery of the North. The cafe will be serving a selection of refreshments until 6.45pm. Thursdays 8 and 15 April, until 7pm

Adventures in the Shelters
Museum of Liverpool Life, Pier Head, Liverpool
0151 478 4080 www.museumofliverpoollife.org.uk

Fun for all the family, join us for a war time adventure around the site visit the 40's house, work a stirrup pump and much more! Places are free but booking essential, contact the information desk on 0151 478 4080 for more details. Each adventure lasts approximately 1˝ hours. Friday 9, Friday 16 April, 12 noon and 2pm

The Belles of New Brighton
Museum of Liverpool Life, Pier Head, Liverpool
0151 478 4080 www.museumofliverpoollife.org.uk

Take a day trip back in time and listen to tales of this popular seaside resort with our own New Brighton Belle. Friday 9 April, 1.30pm, 2.30pm & 3.30pm

Javanese shadow puppets workshops
Liverpool Museum, William Brown Street, Liverpool
0151 478 4393 www.liverpoolmuseum.org.uk

Make your own puppets and find out about the characters and the stories from the Mahabarata and the Ramayana. Linked to the Puppet Worlds exhibition. Friday 9, Monday 12 April, 12.30, 1.30, 2.30 and 3.30pm

Punch and Judy Puppet Show
Liverpool Museum, William Brown Street, Liverpool
0151 478 4393 www.liverpoolmuseum.org.uk

Enjoy the famous puppetry of the Punch and Judy show with Mr. Codman. Saturday 10, Sunday 11 April, 12.30, 1.30, 2.30 and 3.30pm

Easter Egg Search
Customs & Excise Museum, inside Merseyside Maritime Museum, Albert Dock, Liverpool
0151 478 4499 www.customsmuseum.org.uk

Search for smuggled goods on board our interactive ships cabin. Limited spaces, get your free ticket from the information desk on the day. Saturday 10 & Sunday 11 April, 12.30, 1.30, 2.30 & 3.30pm.

Knots, Tubs and Chisels
Merseyside Maritime Museum, Albert Dock, Liverpool. 0151 478 4499 www.merseysidemaritimemuseum.org.uk

Traditional craft demonstration. Sunday 11 April, 12.30 - 4.30pm

Big Bold Banner Workshops
Museum of Liverpool Life, Pier Head, Liverpool
0151 478 4080 www.museumofliverpoollife.org.uk

Free family workshops, suitable for age 7 and over. Places are limited, collect your tickets from the information desk. Tuesday 13 April 12.30pm & 2.30pm

Lights, Puppets Action and Picture Blitz
Museum of Liverpool Life, Pier Head, Liverpool
0151 478 4080 www.museumofliverpoollife.org.uk#

A free workshop suitable for all ages. Work together with friends to create a shadow play on the role of women in the war, then share your ideas with others by putting your puppets in the spotlight and bringing your show to life. Wednesday 14 April, 12.30-4pm

Picture of the Month April
Lady Lever Art Gallery, Port Sunlight
0151 478 4136 www.ladyleverartgallery.org.uk

Boulter's Lock, Sunday Afternoon by Edward Gregory. A free information sheet is available in the gallery every day, plus you can join a free lunchtime talk in front of the painting on the following date. Wednesday 14 April, 1pm

Free gallery talk
Liverpool Museum, William Brown Street, Liverpool
0151 478 4393 www.liverpoolmuseum.org.uk
Explore the important civilisations of the Cycladic Islands and Crete in this informal walk and talk session. Thursday 15 April, 1pm

Circus Skills workshop
Liverpool Museum, William Brown Street, Liverpool
0151 478 4393 www.liverpoolmuseum.org.uk

Circus skills, led by Mick Chapman and Circus Fudge: juggling and other spectacular tricks workshop for young people aged 12-16 years. Saturday 17 April 1-4pm

Flag it up! at the Museum of Liverpool Life
Museum of Liverpool Life, Pier Head, Liverpool
0151 478 4080 www.museumofliverpoollife.org.uk

To celebrate the Capital of Culture theme for 2004 of Faith in one City, visitors can help to design and create a flag which shows what 'faith' means to us. The flags will be hoisted and flown around the city in June. Saturday 17 April, times tbc

A sailor's tale
Merseyside Maritime Museum, Albert Dock, Liverpool 0151 478 4499 www.merseysidemaritimemuseum.org.uk

Can you imagine a life at sea? What are lifelines, fids and why is a ship called 'she'? Here's your chance to find out! Visit our sailor on the merchant navy Lifelines gallery. Saturday 17 April, 1.30, 2.30 & 3.30pm

Explore Customs
Customs & Excise Museum, inside Merseyside Maritime Museum, Albert Dock, Liverpool
0151 478 4499 www.customsmuseum.org.uk

Get hands on with some of the unusual items in the museum's collections and explore the issues of endangered species, smuggling and fakes. Dressing up for the under 7s. Saturday 17 & Sunday 18 April, 12.30-3.30pm
ALSO CHECK OUT OUR EVENTS GUIDE ON www.merseyreporter.com