SWITCHED ON THIS WEEK..

THE BEST BITS ON UK TV

Listings By Caren Clark

For the week Saturday 13 March to Friday 19 March
1. Murder in Suburbia, ITV1, Saturday, 9:15pm, NEW SERIES, Caroline Catz and Lisa Faulkner star in this new drama about two 'buddy' policewomen who combine solving crimes in the leafy suburbs with their search for Mr. Right.

2. He's Starsky I'm Hutch, Channel 4, Sunday, 9pm, As the film remake of the classic 70s show hits the big screen, original stars David Soul and Paul Michael Glaser are reunited with that famous red and white car as they reveal what it was really like to be the world's favourite cops.

3. Alias, Bravo, Sunday 9pm, NEW SERIES, The spy drama moves to yet another channel for its third series, with CIA agent Sydney (Jennifer Garner) unable to remember what has happened over the past two years and reeling from the fact that Vaughan (Michael Vartan) is married. Ricky Gervais and Isabella Rossellini guest in later episodes.

4. Gunpowder, Treason & Plot, BBC2, Sunday 9pm, NEW SERIES, The opening episode of this two-part historical drama looks at the turbulent life of Mary Queen of Scots (Clemence Poesy) while next week's conclusion dramatises the intrigue of the Gunpowder plot which threatened her son James I, who is played by Robert Carlyle.

5. The Southbank Show:- John Lennon's Jukebox, ITV1, Sunday 11:05pm, Following a discovery of a portable jukebox belonging to the legendary Beatle, this special show traces the artists and tracks that were the inspiration for his songwriting.

6. Hustle, BBC1, Tuesday, 9pm, Little Britain's David 'I'm a la-dy!' Walliams guests as a snobbish shop assistant who becomes the victim of one of the con artists' sneaky scams.

7. Mark Williams on the Rails, Discovery, Wednesday, 8pm, NEW SERIES, Mark Williams leaves the Fast Show behind him to journey around the country tracing the development of trains, in a celebration of the last 200 years of railways.

8. Murder City, ITV1, Thursday, 9pm, NEW SERIES, LA Law's Amanda Donohoe returns to British TV to play a tough but glamorous detective inspector who takes on London's murderous underworld. My Family's Kris Marshall co-stars as her ambitious sidekick.

9. The Genius of Mozart, BBC2, Friday, 9pm, NEW SERIES, Mozart Uncovered, BBC4, Friday, 10pm, NEW SERIES, Conductor Charles Hazlewood presents this three-part docu-drama showing how the great composer's work developed during his short but traumatic life. Hazlewood then looks at some of Mozart's best-known masterpieces on BBC4.

10. Sex and the City Farewell, Channel 4, Friday, 9:30pm, Sex and the City, Channel 4, Friday, 10:30pm, LAST EPISODE, Get the tissues ready as Carrie and the girls sip their last ever Cosmopolitans and put away their Manolos away for good. To get us in the mood, a tribute show looks back at the last six series, featuring interviews with the cast.

VARIATIONS:- None

SPECIAL OFFER:- Subscribe to TV & Satellite Week for only £9.99 every 3 months! Call 0845 676 7778 quoting code 27B or visit www.ipcsubs.co.uk/TVS/itsg
Payroll Charity donations Favour Workers
GOVERNMENT research released this week showed an overwhelming support of charitable donations made directly from pay packets from employees in Merseyside.

In a recent poll, 72 percent of workers in Merseyside think employers should offer them the chance to donate to charity straight from their salary. The survey also found that 38 percent of salary earners in Merseyside would consider giving at least two hours of their pay to a good cause each month.

The Big Leap is urging employers across Merseyside to offer Payroll Giving - a scheme that enables employees to support charity directly from their payroll and get tax relief on their donations.

Guy Simpson, spokesperson for The Big Leap, welcomed the survey results:- "Our research goes to show that employees want to be able to support charities at work and we'd like to see more businesses facilitate this. Charities could benefit to the tune of £32 million a year if such a scheme was enabled."

Payroll Giving raised £86 million last year for charities across the UK, and yet just 1% of companies are currently making the scheme available to employees. The Big Leap is urging all employers to sign up to Payroll Giving, register at www.thebigleap.org and is providing free information and support materials for all organisations who take part.

The Big Leap is a new charity company that provides companies with a simple, fun way to engage employees in supporting charities.
LOCAL PATROL IN RUNNING FOR TOP RAC AWARD
MOTORING lead patrol man Ian Quilliam has yet again reached the final round of a closely fought national competition to find this year's RAC Ambassador of the Year.

The title is awarded annually to the RAC patrol that has demonstrated not just outstanding technical and mechanical expertise but also the highest levels of customer awareness and service - often in fraught or even dangerous situations at the roadside.

Ian, 33, has been an RAC patrol for three years, and as a lead patrol is responsible for a six-strong team of patrols in and around the Liverpool area.

When asked if there was anything he'd change about his job the only thing he'd like is for some one to invent waterproof socks to get him through the rainy winter months.

Ian will be attending a glittering awards ceremony at the end of this month together with other top performing patrols where the winner will be announced.
WEST LANCS BIG BAND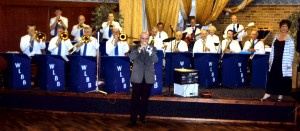 THE well known band will be playing at these venues on these nights in Southport if you want to see them.

Friday 26 March St. John Stone
Sunday 4 April Beaufort Hotel
Friday 23 April St. John Stone
Sunday 2 May Beaufort Hotel
Friday 28 May St. John Stone
Sunday 6 June Beaufort Hotel
Friday 25 June St. John Stone