MOBILES GIVES DEAF PEOPLE A HEARING"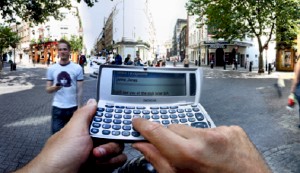 A MOBILE phone has today been launched in the North West which allows deaf, hard of hearing or speech impaired people to hold real-time, interactive conversations whilst on the move.

The mobile text phone is available across the region by provider Vodaphone with award-winning software developed by RNID, the largest charity representing the nine million deaf and hard of hearing people in the UK.

The service improves deaf people's ability to make any call, from something as crucial as contacting the emergency services to making a simple enquiry about goods or services. It also allows interactive text conversation similar to speaking on the telephone, where users can interrupt and enjoy the immediacy of dialogue.

Dr John Low, RNID's Chief Executive says:- "It is a triumph to see phones once again being used as they were intended - to empower deaf people. Alexander Graham Bell began by developing a microphone to help his deaf mother hear. Had he not been so keen to bring down barriers for deaf people, phones as we know them might not exist."
WEST COAST WORKS SPEED AHEAD
MERSEYSIDE TRAVELLERS can expect an improved train service when the new West Coast rail timetable is introduced in September this year.

And helping ensure that service is delivered on time are Network Rail's engineers, who will be carrying out a major program of improvement works on the London to Glasgow route during Easter and the Spring Bank Holiday.

The £8 billion modernisation of the London to Glasgow route is now only months away from the introduction of 125mph services between Manchester, Birmingham and London by September of this year, leading to a safer, faster and more reliable railway with reduced journey times.

Passengers from Liverpool will also see an improved service from September, with journey times to London reduced to two and half hours and improved services between Liverpool and Manchester Airport and Liverpool and Birmingham.

Liverpool students spend day in Big Brother-style Ballot Box for voting push

Two Liverpool students are set to take part in a unique experiment next week when they spend the day in a 7 metre by 2.5 metre Perspex box in the town centre with onlookers given the power to control their every action.

The students are taking part in the Big Brother style challenge on 22nd March as part of a major new voter awareness push. The Electoral Commission 'Ballot Box' tour aims to convince 16-24 year-olds in Liverpool and other major UK cities that politics is relevant to all aspects of their lives.

The campaign's launch in Liverpool was prompted by the fact that the city recorded the lowest voter turnout in the UK in the 2001 general election.
MP Announces Cutbacks to Favour Charity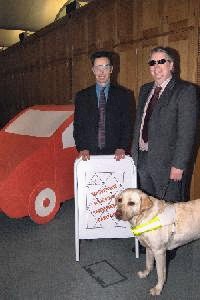 JOHN Pugh MP for Southport announced cutbacks not to save money, but in support Guide Dogs' Safer Streets campaign for blind and partially sighted people earlier this week after undergoing an obstacle trial involving guide dogs.

Wearing a pair of goggles, which simulate visual impairment, the MP for Southport completed an obstacle course at the Parliamentary launch of The Guide Dogs for the Blind Association's A-Z Guide to Street Obstacles on Tuesday, 9 March.

Tom Pey, Guide Dogs' Director of Policy, explains:- "We're delighted that the local MP is supporting our on-going work to reduce pedestrian obstacles, which are hazardous to visually impaired constituents.

We know of cases where vision impaired people have received serious facial injuries from sharp, overhanging branches, or have stumbled on uneven pavements. We're working with MPs, local authorities, retailers, drivers and other residents to make a difference, and have launched a web-page www.guidedogs.org.uk/saferstreets where people can find out more about the campaign."

Guide Dogs' A-Z Guide to Obstacles are:-

A = A-boards
B = Bollards
C = Cyclists on pavements and cycles discarded outside shops
D = Debris ... from building work, eg:- piles of sand
E = Electric and other cables
F = Food (discarded food can distract guide dogs)
G = Gum (discarded chewing gum can stick to guide dogs' hair)
H = Hedges overgrown
I = Irregular walking surfaces
J = Jagged glass and/or broken bottles (broken glass can cut guide dogs' paws)
K = Kerb stones
L = Lamp-posts
M = Mess from other dogs
N = Narrow walkways as a result of obstructions
O = OBSTACLES
P = Pot-holes in badly maintained pavements
Q = Queues
R = Roadworks - badly fenced
S = Scaffolding
T = Trash - discarded bin bags and loose rubbish
U = Umbrellas
V = Vehicles parked on pavements
W = Wheelie bins
X = X-ings (Crossings) - lack of aids for vision-impaired people
Y = Youngsters on roller-blades and skateboards
Z = Zig-zagging around unnecessary street obstacles