MAN CHARGED AFTER SIX KILO COCAINE SEIZURE
A MAN was charged this week after Customs officers seized cocaine with an estimated street value of £360,000 in luggage at Manchester airport.

British national David Vernon Stephenson, self-employed, of 61 Gresham Road, Brixton, and London was charged today with attempting to import six kilos of the Class A drug into the UK. He appeared at court this week to answer the allegations.
POLICEMEN RAISE MONEY FOR A WHEELY GOOD CAUSE!
HAYDOCK Little Chef helped re-fuel two very special customers this week - two soccer crazy police officers who are cycling 700 miles around the country, in just seven days, to raise money for Leukaemia Research!

Detective Sergant. Sean Baxter and Detective Constable Andy Munson, from Lincolnshire police force, are cycling 100 miles a day and collecting 20 signed Premiership football shirts along the way. They began their challenge in Southampton and will complete their efforts in Newcastle, after travelling via London, Manchester and Liverpool!

Sean and Andy are currently in the area to collect football shirts from Liverpool and Everton football clubs. Little Chef are very proud to be keeping them fed and watered along the way and have donated £500 of free meals en route for them and their team.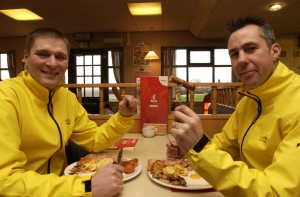 Little Chef's Marketing Manager Joanne Blake says:- "We have a great relationship with police forces across the country, so we're delighted to be able to offer support in kind for Sean and Andy, especially as their efforts were all in aid of such a great cause."

Police liaison officers at each club are having the football shirts signed to be presented to the biking policemen, for a charity auction.
CAFOD Supporters Raise Cash towards Rwandan Genocide Survivors
PARISHIONERS throughout the Liverpool diocese raised a total of £52,493 for CAFOD Lent Fast Day, which this year was dedicated to survivors of the Rwandan genocide.

Churches throughout Liverpool, including St Anne in Ormskirk, which raised £1,750 and St Sebastian in Liverpool, which raised £3,537, and the Sacred Heart in Southport, which rasied just under £900, held special services and fundraising events, to mark the tenth anniversary of the atrocities.

Much of the money raised will help rebuild the lives of those who survived the 100 days in 1994 when one million people lost their lives.

Liverpool regional organiser Tim Allen said:- "Once again the people of Liverpool have responded to the plight of others and given generously. It's impossible to imagine what these women in Rwanda have been through. Many were forced to watch their children die in the most brutal way, while others were raped and are now HIV positive.

It may be 10 years ago that they lived through this nightmare but it will take many more years to heal these wounds. This money will help continue the support they need. "
SPOTLIGHT FALLS UPON SOUTHPORT, ENGLAND'S GOLF COAST......
SOUTHPORT now "England's Golfing Capital", located on England's North West Coast, is to play host to another major event this month bringing together Europe's best professional women's golfers and Great Britain and Ireland's top amateurs.

The annual Weetabix Challenge will be staged at Formby Golf Club on April 17 in the build up to the Curtis Cup, and will see top women golfers in action when the Ladies Golf Union par their tees against the British squads on the Ladies European tour.

Lord Fearn, Sefton's Cabinet Member for Leisure and Tourism, said:- "Hosting the event will be a major boost to the area's England's Golf Coast campaign to market the North West. The eyes of golfers worldwide will be focused on the area further promoting Southport and England's Golf Coast as the North West's leading golf destination."
Letters to the Editor:- "What the???"
DEAR Editor... "I have to ask, why did Sefton build such a large and unsightly bridge in Southport. What the ? is it... The Sea front has already lost most of its Victorian looks, yet Sefton still sells the town as a Victorian seaside resort. I did hear the words 'a traditional and classic resort' cropping up in conversations with the council. Also what is the problem with opening the underground shops? I know you can still get in most of them. Sefton should open them up as they would bring in a fortune for the town and for Sefton." Kim Watson (Southport).
Thank you for your email. We will pass your letter on to Roberta Lee to investigate for you.