BIRKENHEAD SOLDIER DRUMS UP STANDARDS IN MUSIC AND MARCHING
A FORMER music loving soldier with the Cheshire Regiment is now teaching at the famous Royal Military School of Music at historic Kneller Hall in Twickenham.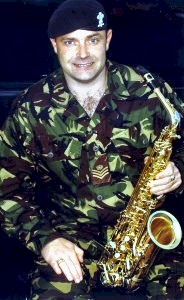 Andrew Prescott from Birkenhead, who believes he is the only soldier ever to transfer to the Corps of Army Music from another military unit, is currently Drum Major at the world-renowned school. This prestigious post involves the 32-year-old Staff Sergeant teaching the tricky art of playing music while marching.

Mastering this skill is key for the 60-plus full-time students at the school, who are training for an exciting career playing in one of the Corps of Army Music's 30 regular bands that regularly perform at the top concert halls and events worldwide. This includes internationally renowned musical extravaganzas such as the Edinburgh Tattoo that are watched by millions of music lovers.

The Corps, which is also responsible for 15 Territorial Army bands, is the biggest and many would argue the best employer of musicians within the UK. Its many full-time musicians, who include about 1,100 singers and those proficient on all the instruments of the orchestra as well as strings and the acoustic guitar, fulfill 3,500 engagements each year in about two dozen different countries.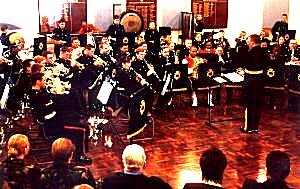 Musicians are paid while being trained by some of the country's leading instrumental and academic professors. Although unlike most army units it is not possible to join as an officer, there is a clear career path with the opportunity for some of the most rapid rising through the ranks within the military.

Andrew, whose parents, retired docker Bernard, and sales assistant Margeret, live in Birkenhead and was once a student at the school himself. But unusually he did not join the army as a musician, but as an infantry soldier. Indeed most students at the school are already very talented musicians, of whom many have music degrees or have enjoyed successful musical careers in their civilians life, which make Andrew's story all the more extraordinary.

The former pupil of St John Plessington School in Bebington, joined the Cheshire Regiment when still a teenager in 1987. He explained:- "I had been in the army a couple of years and at the time the Regimental band was under strength and was advertising for people. I thought I would give it a go, so they took me on a trial basis and taught...

... me to play the clarinet and saxophone, which are the same really, just different shapes. I had had no musical experience up until then.

I came to Kneller Hall in 1992 for extended musical training on my pupil's course. I'm the only person in the Corps that has been a soldier first."

While still a regular soldier with the Cheshire Regiment Andrew served in both Northern Ireland and the Falklands. After becoming an Army musician he went on two major operations in his secondary role as medic. (This is now changed to decontaminating people following a nuclear, biological, chemical or radiological incident or attack). As a medic he served in the Gulf during the first conflict and Bosnia during its bloody civil war.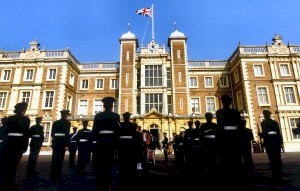 Andrew, who currently lives in Twickenham with his pharmacist wife, Lisa, and their 15 year old son, Liam, recalled memories from these times.
"In the Gulf I spent four months working in triage. It was very busy - we had quite a few casualties, mainly Iraqis. I was apprehensive at times as we didn't know what was going to happen and had no end of tour date. I went to Bosnia when it all very first happened. I served as a medic and went on foot patrols. It was a frustrating time to be part of a peacekeeping force."

Although undoubtedly Andrew has served on some challenging operations, it is his recent appointment at Kneller Hall of which he is most proud. "My claim to fame is that I am Drum Major at the Royal Military School of Music and instruct all the marching bands. To me that's the most important thing as no-one else does it. I'm able to make a difference to these people who are at the beginning of their careers. What I do and say to them they take as gospel and will take with them for the rest of their career - I'm affecting their futures. To go from not being a musician at all to being an instructor here is much better than anything else in my career."

When asked about the secrets of teaching marching bands, he said:- "It's only walking and playing at the same time really and is not as hard as people think. It's all about repetition and plenty of practice."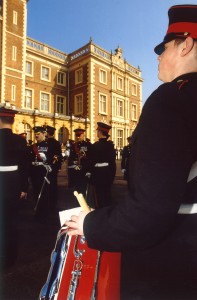 As a musician Andrew has achieved a diploma in music, an Associate of Trinity College of London. He has played all over the world at some of the top venues, such as the Royal Albert Hall and before huge crowds at sporting arenas. Also he has helped lift morale at many foreign orphanages and schools.
Photographs with thanks to the MOD