LIVERPOOL SCHOOLS TO TAKE ON 2004 KIELDER CHALLENGE
EIGHT teams of eight 13 to 16 yea olds from six Liverpool schools; Redbridge High School, Fazakerley High School in Fazakerley, Ashfield School in Childwall, Watergate School in Woolton, Range High School in Formby and Sandfield Park School on Sandfield Walk in Liverpool are preparing to go head-to-head with 200 UK schools in the heats stage of the 2004 Kielder Challenge.

Now in its 20th year, the Kielder Challenge is a unique, free to enter, adventure competition organised by the UK's leading outdoor access charity Fieldfare Trust and supported by the HSBC Education Trust. The national competition involves teams of year 8 to 11 young people with and without physical, sensory and learning disabilities.

The teams will each be taking part in a day-long regional heat. Redbridge High School and Fazakerly high school are entering two joint teams. They will be competing against Ashfield School on Wednesday 21 April at Croxteth Hall, while Sandfield Park School, Watergate School and two teams from Range High School will be competing against each other on Thursday 22 April at Croxteth Hall. A third Range High School team will also be doing battle in the Kielder Challenge at the Haigh Hall heat in Wigan being held on Friday 23 April. At the heats, the teams all hope to win one of only 12 places in the grand final of the 2004 Kielder Challenge.

At the heat, the teams will put their problem-solving, communication and teamwork skills to the test as they battle against the clock to complete a series of problem-solving activities, which include obstacle courses and rope mazes.

Commenting on HSBC's support, Dame Mary Richardson, Chief Executive, HSBC Education Trust, said:- "The Kielder Challenge successfully combines some of our most important objectives in supporting educational causes. It gives young people with and without disabilities the chance to compete on equal terms and promotes teamwork, leadership skills and a change in attitude. Positive attitude is essential if a child is to develop self confidence, self esteem and achievement outside the classroom."

The regional heats stage of the 2004 Kielder Challenge will be taking place during April and May at country parks and woods throughout the UK. The two-day grand final takes place in September in the magnificent setting of Kielder Forest in Northumberland.
Murder of Craig Barker CCTV Released
MERSEYSIDE Police have released CCTV pictures of a man they would like to speak to in connection with the murder of Craig Barker in Everton last week.

At about 9.10pm on 6 April (Tuesday) a black Ford Galaxy was travelling along Robson Street in Everton carrying about four men. At the same time a silver Mondeo pulled up and a man, described as about 5'7" tall, with red hair and a scruffy appearance, got out and started firing at the Galaxy. Craig Barker, the 19 year front seat passenger, was shot, along with 22 year old Ian Gee, who was taken to hospital. Craig later died of his injuries, and Ian remains in a serious condition in hospital.

A silver Mondeo was later found burnt out in Long Lane in the Wavertree area of Liverpool. While police can not confirm if this was the car involved in the incident, the car is currently subject of forensic examination.

A second car, described as a small dark vehicle, like a Fiesta was also seen near to the scene at the time of the incident. Detectives are continuing to appeal for the driver and any passengers to come forward as they could be important witnesses.

Detectives have retrieved CCTV pictures of a man they would like to talk to. At about 6.30pm on Tuesday 7 April, a man bought a green petrol can and a quantity of four star petrol from the Sandown Service Station, Picton Road in Wavertree. It is believed that the man was driving a black, R registered Ford Fiesta at the time. Detectives are appealing for this man to come forward as it is believed that he may have important information about the incident.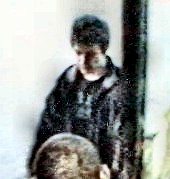 Anyone with information about the identity of the man is asked to contact Crimestoppers on 0800 555 111