GRAN CANARIA CALLING FOR LIVERPOOL'S MODEL CITIZEN LAURA

LIVERPOOL'S model citizen Laura Hall could be heading to Gran Canaria to feature in the market leading youth brand's 2005 summer brochure, after reaching the final of Club 18 t 30's annual Model Competition.

Now in it's 9th year, the Club 18 to 30 model competition, which has helped to discover several models who have gone on to develop careers in the fashion industry, is still the original and the best despite several flattering copy cat contests!.

Laura could be one of three hunky lads and three beautiful babes heading for a week in Gran Canaria this month to be the stars of Club 18 to 30's 2005 summer brochure after beating over a thousand entrants to make it through to the final stage of the competition.

Laura, 25, decided to enter the competition after spotting the advert as she flicked through Club 18 to 30's brochure looking for a holiday.

Laura said:- "I want to be on my Club 18-30 holiday next year and have everyone say 'Aren't you the girl in the brochure!"

Southport Weekender is on again.

THE MAY Weekender has returned to Southport again. With all the usual trimmings and added fun, this Weekender should prove to be the best yet. We will bring you a full report with lots of shots next week.
Liverpool Reporter, Jazz Night, presents Jazz Classique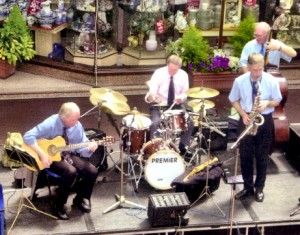 Allan Bartley - Guitar; David Gartside - base; Garry Robinson - Drums; John Padfield - sax and clarinet & Evotte Cooper - singer
ON THE back of the last Jazz night at Casablanca, the next band is a regular player at the Southport Jazz festival comprising of Saxophone Clarinet, Guitar, Double Bass and Drums. The band is going to get you in the mood for Summer and the Southport Jazz Festival playing mainstream jazz and blues, in style of Benny Goodman, Stan Getz, Charlie Byrd etc. The band has been formed for some years now and has entertained massive audiences across the UK and now plays regularly in Southport. Alan Bartley said "The lighting and sound at the last night was fantastic and it gave the night a good atmosphere. We are very pleased to get asked to play at this event and look forward to it. The night should bring in lots of people of all ages and allow children to experience the music as well as allowing the adults to have a fun what is a relaxed atmosphere." Organizer Patrick Trollope said "This night is offered as a free entertainment night for any one who wants to come along. We hope all ages find the night fun and relaxing as the audience of the last event did. This night is amid at the family and this type of event is lacking in Southport. We hope to fill that gap with in the facilities offered by Casablanca. The only are restrictions are at the Bar, so families are very welcome to come along."

The night is FREE to watch and open to all ages. Let the children play on the Bowling ally and other amusements as you relax and take in the atmosphere.

For more information visit phone Pleasureland on 01704 532 717 or Mersey Reporter on 01704 513 569. You can also log on to www.pleasureland.uk.comcom or visit www.liverpoolreporter.com.
Support act to be announced next week!