Southport Weekender 34 Kicks Up A Storm

Report by Natasha Pisciteli and Cris Doros. Photographs by Patrick Trollope.
THE Southport Weekender is the UK's most established and prolific music happening on the clubbing calendar. What is surprising is that only a small minority of 'Sandgrounders (that is, people from Southport) actually attend the event. I'm an original Sandgrounder and I'm proud to say I was there to witness the 34th edition of the UK's bounciest, chunkiest and down right rudest Weekender. And what a beauty it was!

The British weather not letting us down, both Friday and Saturday night were freezing cold and speckled with a dusting of that Ainsdale sea breeze. However, as soon as we were through the doors of Pontins we couldn't help but submerge ourselves into the sunny beats and pieces emerging from the five bars and dance arenas. First up, we paid Simon Dunmore a visit in the Powerhouse and warmed up to his soulful selection of funky house beats and tribal sounds. Nicely flexed, we then made our way over to the Bacardi B Bar for my personal favourite, Mr Gilles Peterson. His usual playful self, he slipped out an eclectic mix of jazz favourites and raw beats that couldn't help but make you tingle all over. House classic, 'Got To Get Your Own' by Ruban Wilson, was a definite turning point in his set and was one of those moments where everything stands still for a micro second before the crowd goes absolutely nuts and completely changes their style of dancing.

Back to the Powerhouse and America's finest, Miguel Migs, was on hand to really get things going. Playing his usual blend of dub-orientated house and that sweet sweet soul music, the arena was filled with music-hungry revellers dancing like they'd never danced before. When he was joined on stage by soul diva Cathy Brown, the duo really ripped up a storm, her strong melodies the perfect accompaniment to his disco tinged 'Naked Music' label tunes. I happily lapped up a whole host of favourites, including Mig's own track 'Bump Selecta', 'Funu' by Dennis Ferrer and Project 4's 'Waiting'. We were completely spoilt for choice and had to leave behind the fantastic Migs, to catch a rare treat, the master of funk/soul/rare grove, Norman Jay, in the Connoisseurs' Corner.

The spirit of the night was summed up by Ryan Williamson, a Club Promoter from Bath:- "I've been coming here now for around eight years and each one seems to be better than the last. There's nowhere else in England where you can find the best DJs, singers and performers all under one roof, it's unique, which is what makes it so good for me."

Back for more on Saturday night and it couldn't get any better, or could it? A quiet reception for Italian DJ and producer, Nicola Conté, in the Bacardi B Bar gave the room's finest dancers the chance to pull off some skat-influenced jazz dance moves. When two dancers that don't know each other partner up and move like they've been dancing together all their lives, a circle forms around them to watch in awe. This, I think to myself, is exactly what the Weekender is all about.

It was Conté's first appearance in Southport and was a first for me and I'm proud to say I'm already a convert! His Brazilian and Italian-influenced selection of bossa nova-led acid jazz was moody and immersive, making it easy to see why he is being dubbed the 'pioneer of nu jazz.' Mixing the old with the new, like B-Line Woman by Nina Simone, he was accompanied at times by the most talented percussionist on the current soul scene, Snowboy. The masters worked together so seamlessly, it was difficult to tell which beat came from where. Next up was DJ Spinna who maxed the B Bar out to the rafters; it was so busy that it was almost impossible to dance!

Over in the Connoisseurs' Corner and Dr Bob Jones, the 'prescriber of soulful remedies' made his 34th Southport Weekender appearance; yes he has played at every single event! He is undoubtedly one of the orginal Southport Weekender massive and played an impressive four sets over the three days.

I On Saturday night, a live PA by soul superstar Donnie was the icing on the cake, his powerful voice providing an awesome backdrop to Jones' soul-drenched disco, funk tunes. Other Saturday night highlights included the Starlight Crew.....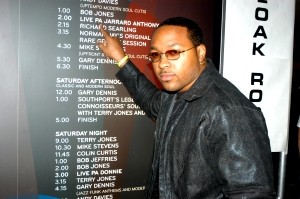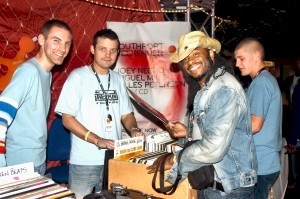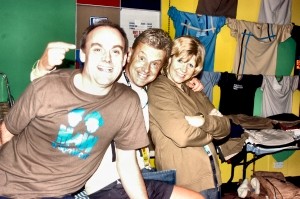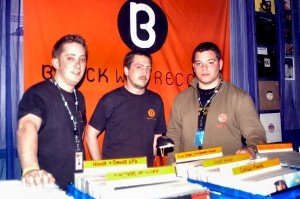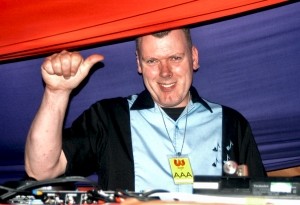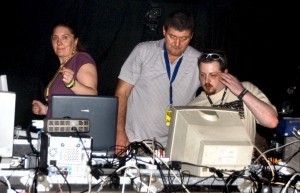 continued.... in the Funkbase, where I had the opportunity to chat to a Weekender die-hard, Clare Sutton, a PA from London. She said:- "I'm having the best night out I've had this year! The music's absolutely brilliant, everyone is having a great laugh and are so friendly and there are so many gorgeous men here - I don't want to go home!"
I didn't make it to Sunday's wind down session myself, but I've been told it was actually the best day of the whole weekend, featuring, amongst others, a live PA by Su Su Bobien and DJ sets by Max Rees, Simon Mansel and Steve Butler.

Weekender 34 was the fastest selling in its history and the fact it sold out without a single ad being placed proves its iconic status amongst the nation's most dedicated music lovers. The next edition is being held 5 November to 7 November 2004 and judging by the massive demand for tickets for the last one, I'd recommend you get in there early!

Now you have read the report, click on to see our massive photographic record of the event, but please note that more photographs will be used next week.
Page 1 of
29