A 26 YEAR OLD man was robbed last week whilst walking along Court Road near midday on April 30, away from the town centre.

He was confronted by two unknown men. The victim was pulled to the floor and the offenders ran off in the direction of Alexandra Road taking with them a blue, Nike shoulder bag. The victim was uninjured during the incident.
Royal Patron Visits St George's Hall
THE DUKE OF GLOUCESTER, Royal Patron of the St George's Hall Charitable Trust toured St Georges Hall earlier this week as part of his first visit after he agreed to become patron of the trust made earlier this year.

He accompanied on the tour with the Lord Lieutenant of Merseyside, Alan Waterworth, the High Sheriff, Stuart Christie, the Deputy Lord Mayor, Councillor Frank Roderick, City Council Leader. Councillor Mike Storey was also in attendance.

They will be shown the work which is currently taking place at the Hall as part of an £18m refurbishment programme, by Derek Morris, Chair of the St George's Hall Charitable Trust and Hall Director Graham Boxer.

The Duke met members of the Project team, Trustees and Hall Staff and was presented by Mr Morris with a framed copy of a watercolour painting of St George's Hall by Sir James Pennethorne.

Graham Boxer said:- "We are very pleased that he agreed to become our Royal patron. We know he is very keen to see at close hand the work taking place and to hear about the future development of the building."

Current work of the hall should be finished by the beginning of 2005. Liverpool City Council and the Trustees are now actively seeking funding to enable the second phase of refurbishment to take place.
LID DEMS SELECT SOON TO BE WED COUPLE AS CANDIDATES FOR MANOR WARD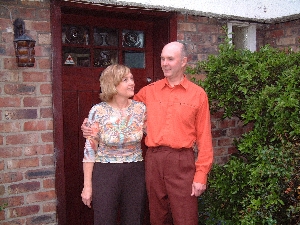 CROSBY & Bootle Liberal Democrats have selected a Hightown couple to fight for them in the upcoming local elections.

Manor Ward covers Hightown and part of Crosby. Linda Gilroy and Peter Hough, who live on Elmcroft Lane, are due to be married in July.

Linda was brought up in Crosby on Elmwood Road, and went to Forefield Lane School. She moved to Hightown in 1986, and is a Geography teacher in Maghull.

Peter is a freelance writer, and a party activist of long standing. He told us:- "We care passionately that the interest of local communities should be fully considered before those of developers and telecommunications companies. It is something of a tightrope, but on balance quality of life and health must come first."

Peter spearheaded numerous campaigns in Lowton where he previously lived. In one, he collected a 1,700 name petition which persuaded planners to back down over building a filling station within metres of a primary school.