LIME STREET STATION TO GET NEW GLEAM
LIVERPOOL'S Lime Street Railway Station is set to shine, as Network Rail appointed cleaning specialist Initial Transport Services to look after the busy newly refurbished platforms.

This latest addition sees Initial cleaning nine of the 17 Network Rails' managed railway stations situated across the UK.

In a move to meet the challenges that come with cleaning an area which thousands of commuters pass through each week, fast-acting Initial has already introduced range of high-tech cleaning equipment, including a huge ride-on scrubber dryer to wash and polish the floor.

The 13-strong team, who will provide a twenty-four-hour, seven-days-a-week cleaning service, has also received special training with added emphasis on health and safety and customer service.

Chris Hall, managing director, Initial Transport Services, said:- "We look after some of the UK's busiest stations and have received a raft of industry awards. Lime Street Station can rest assured that it is being looked after."
SEFTON ADVANCED MOTORISTS
THE Sefton group of the Institute of Advanced motorists will hold their May meeting on Monday 17th May at 8pm at the Royal Clifton Hotel Southport. It is the group's AGM. We will have as our speaker (after the business part of the meeting) Mike Lyne, our Divisional Council Member on the National IAM Council, plus slide show.

Have you joined the Group this year, to improve your driving and live up to the Institute of Advanced Motorists motto of 'Skill with responsibility'. If you were unable to join the first course of 2004 in January or the course which recently started ring Ray on 01704 538595 (daytime phone or fax) to place your name on the next list.

Find out how safe your driving is and if you have good observational skills. 'Only a fool breaks the two second rule,' do you know what it means? Come along and find out how this can assist you.
The way you drive matters if you want to achieve safety, economy and performance, whatever class of vehicle you drive. Having passed the Advanced test, statistics show that your chances of having an accident are cut by two thirds. You can take the test on a motorbike, in a car, a van or a lorry, as an individual or with the company vehicle through IAM Fleet Training.

Motorcyclists meet weekly at the Richmond Hotel, Scarisbrick New Road, Southport. If you have a bike and fancy joining them, give Alan a ring. Trips have been taken recently to Glasson Dock, Abbey Village, Delamere, Slaidburn and The Last Drop Village, Bolton. Motorcycle information can be obtained from Alan Filson 01704 579874 or AAFilson@aol.com.
SPONSORED GLIDE FOR QUEENSCOURT HOSPICE SOUTHPORT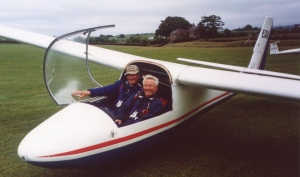 "QUEENSCOURT Hospice is an independent hospice which serves the communities of Southport, Formby and West Lancashire, it receives no statutory funding and relies heavily on donations and fundraising to generate the income needed to meet the running costs and ensure they are able to continue to offer the highest quality services to those who need their care.

Each year they need to raise £700,000. Sponsored events are an important part of the fundraising activity and all the money raised by sponsors assists to meet this challenging target.

The Hospice exists to provide care and support to those suffering from serious, advanced and progressive illness. Queenscourt is not a long stay facility or a nursing home.
Their aim is always to allow patients to remain in their home environment, free from pain and with symptoms controlled.
My reason for choosing this particular charity, is over the last few years several of my family and friends have suffered from cancer including my husband, so I thought that this is a well deserved charity to be sponsored.

I am married to Derrick and we have three children and two granddaughters. I am a scheme leader for Southport Homewatch and also a member of the main committee. I have applied to become a volunteer at Queenscourt Hospice. I enjoy swimming and I am a member of a local leisure club.

I am an associate member of Southport model engineering club where my husband has been a member for a number of years. The chairman of the engineering club is Bob Pettifer who is the regional examiner of instructors and an instructor pilot at Bowland Forest Gliding club. He is the pilot taking me on my sponsored glide.

This will be my first ever glide, I am rather apprehensive, but will be flying with a very experienced pilot so that makes it easier. The flight will be on the 22nd June, weather permitting.

Anyone wishing to sponsor me can email me on gwenandderrick@supanet.com or telephone me on 568456.

Thanking you in anticipation for your sponsorship,

Mrs Gwendoline Baguley."