NORTH WEST EMPLOYEES SELECT THE QUALITIES OF THEIR IDEAL BOSS

DRESSING up as a woman, pretending to be someone else to obtain information and looking after the boss's cat are among the strangest tasks that managers in the North West have persuaded their staff to do, while staff admire the motivational qualities of Paula Radcliffe and Stelios Haji-Ioannou.

These results from North West workers are among the findings from the Capital Incentives & Motivation annual Work Motivation Survey. This aims to find out what motivates people in the workplace, what rewards they receive and who would be their ideal person to work for. The survey is well established and its results have a significant impact on the way UK companies use motivation to retain staff.

When asked to select the qualities of their ideal female boss, UK workers want her to have the face of Catherine Zeta-Jones, the body of Halle Berry, the hair of Gwyneth Paltrow, the style of Kate Moss, the leadership and motivation qualities of Paula Radcliffe and the humour of Kathy Burke.

They want their ideal male boss to have the face of Brad Pitt, the body of Jonny Wilkinson, the hair of Ben Affleck, the style of David Beckham, leadership and motivation qualities of Stelios Haji-Ioannou and the humour of Peter Kay.

'Being fairly treated and valued' remains the most motivating factor for most people at work, with 84% of North West workers rating it highly, more than the national average of 78%. Other factors that were important include 'good relationship with colleagues' (71%) and 'good salary' (65%).

When asked which benefits they would choose for their ideal job package, employees in the North West chose flexible working hours (37%) and a car (37%) equally, followed by an extra week's leave (13%) and a pension plan (8%). Interestingly, cars are very important to employees in the North West with 37% choosing cars well above the national average of 24%.

The results of the survey also show that the proportion of workers whose companies offer incentive reward schemes increased significantly from 47% to 68%. However, only 22% of UK companies consult their employees about what type of reward they would like before finalising the scheme. When asked about the types of awards received, voucher schemes were most prevalent in the North West, followed by cash incentives.

When it comes to sticking to performance targets, employers in the North West are stricter than most with 62 % ensuring their employees stick to targets against the national average of 55%.

Graham Povey, Managing Director of Capital Incentives & Motivation observes, "With high levels of employment, it is becoming increasingly difficult to retain good employees. Clearly, many companies are realising that an effective motivation scheme is an excellent method of reducing staff turnover and retaining your best people.

2. What motivates you at work?
Based on % of respondents in the North West who voted each factor very important
1. Being treated fairly/valued 84%
2. Good relationships with colleagues 71%
3. Good current pay/salary 65%
4. Job security 63%
5. Good benefits 56%
6. Effective leadership 51%
7. Good location and environment 44%
8. Feeling important and involved 43%
9. Good relationship with boss 40%
10. Training 38%"
SWITCHED ON THIS WEEK...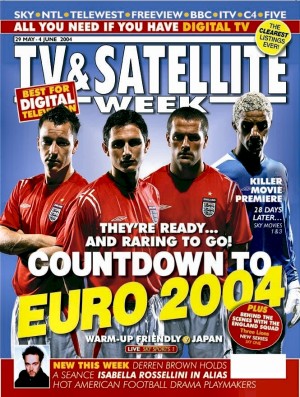 THE BEST BITS ON UK TV, by Caren Clark of TV and Satellite Week Magazine.
For the week Saturday 29 May to Friday 4 June
1. Avrocar! Saucer Secrets from the Past History Channel Saturday 8pm; Charting the extraordinary story of the Americans' failed attempt to construct a high-speed flying saucer to assist them during the Cold War.

2. Arena: Luciano Pavarotti - The Last Tenor BBC2 Saturday 9.05pm; I Want to be Pavarotti BBC4 Saturday 10.45pm Go behind the scenes with legendary singer Pavarotti at various events including a Three Tenors reunion and the christening of his baby daughter. Meanwhile, singing tutor Richard Alderson turns ordinary voices into the Pavarottis of the future.

3. Alias Bravo Sunday 9pm; Blue Velvet's Isabella Rossellini joins the cast of the hit US drama as Sydney's mysterious but dangerous aunt Katya, who might just be able to save Syd from a Korean firing squad, but only if she gets a favour in return.

4. Three Lions Sky One Holiday Monday & Wednesday 10pm NEW SERIES; As Euro 2004 beckons, this new series shadows three of Sven's squad - Ashley Cole, Frank Lampard and James Beattie - on and off the pitch as theyprepare to strut their stuff in Portugal.

5. Human Icicle Discovery Holiday Monday 10pm; This fascinating documentary follows awe-inspiring swimmer Lynne Cox as she attempts to become the first person to swim a mile in the freezing Antarctic Ocean. While most humans would perish after only five minutes, Cox will have to spend about half an hour in the chilly depths without a wetsuit.

6. Derren Brown: Seance Channel 4 Holiday Monday 10.35pm; Undeterred by the furore surrounding last year's Russian Roulette stunt, the psychological illusionist now tries his hand at contacting the dead with the help of twelve volunteers and input from viewers at home.

7. Bollywood Star Channel 4 Tuesday 9pm NEW SERIES; Channel 4 launches a search to find the first British born star of the world's biggest film industry. A chosen few will go through rigorous training in singing, dancing, acting and Hindi before showing off their new skills as they compete for a role in a major Bollywood film.

8. Inside the Mind of Liza Minelli Channel 4 Tuesday 10.30pm; After the acrimonious end to her marriage to David Gest, this revealing profile explores the troubles the entertainer has endured, as well as the uncanny parallels between her life and that of her mother Judy Garland.

9. Imagine...The Mysterious Mr Hopper BBC1 Wednesday 10.35pm NEW SERIES; Coinciding with a new exhibition at the Tate Modern, Alan Yentob takes a look at the life and work of celebrated American painter Edward Hopper.

10. Playmakers FX Thursday 9pm NEW SERIES; This racy new US drama follows the darker side of life in an American football team. From domestic violence to drug abuse, the show makes Footballers' Wives look like Heartbeat.

VARIATIONS:- Imagine...The Mysterious Mr Hopper BBC1 Wales Wednesday 11.05pm; BBC1 Northern Ireland Wednesday 11.25pm NEW SERIES

SPECIAL OFFER:- Subscribe to TV &Satellite Week for only £9.99 every 3 months! Call 0845 676 7778 quoting your special code of 27B or visit www.ipcsubs.co.uk/TVS/itsg