Ladies net a slice of the tennis action
THE Liverpool International Tennis Tournament will be bigger than ever this year as women take part in the event for the first time.

Former British number one Sam Smith and a local qualifier will net a slice of the action at the tournament, which takes place at Calderstones Park between 9 June to the 13 June.

Thirty year-old Sam, who reached the fourth round at Wimbledon in 1998 after defeating former champion Conchita Martinez, will team up with Merseyside tennis ace Barry Cowan. The pair will take on Mansour Bahrami and a local qualifier in a mixed doubles showdown on Saturday June 12.

The favourites to qualify for the match are; 18 year-old Gemma Bisson; fellow 18 year-old, Huyton's Tootsie Nugent; and Jenna Webster, a 15 year-old from Mossley Hill.

A second qualifier will be in mixed doubles action on Sunday 13 June.
Tournament Director, Anders Borg, said:- "Women are very important to us and it will be great for us to introduce the best from Merseyside along with some of the great legends of the game."

Liverpool City Council's sports manager, Richard Johnson, said:- "It is wonderful to see ladies being given the opportunity to compete at Calderstones. Along with great names such as Richard Krajicek and Illie Nastase and the up and coming stars taking part, we will be in for a great week of tennis."

The Liverpool International Tennis Tournament 2004 boasts top names Richard Krajicek, Vince Spadea, Irakli Labadze and Robert Kendrick, as well as legends such as Ilie Nastase, Guillermo Vilas and Mansour Bahrami.

For ticket information, call 0870 169 0107 or visit www.liverpooltennis.co.uk
TABOO...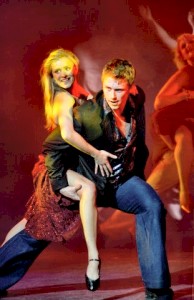 TABOO, the Olivier award-winning Boy George musical that has taken the West End by storm, it opened in London in 2002, and is currently touring the UK to great success and will star JULIAN CLARY. When it hits the Empire for one week only on July 5, Julian has specially extended his run with the show to play the role of performance artist and designer Leigh Bowery in Liverpool.

Taboo, has been receiving standing ovations throughout the tour, and is a musical portrait of a brief, but remarkable era of London in the early 1980s. These gloriously self-indulgent years, played out against a backdrop of mass unemployment and social upheaval, and sparked a rebellion among young people, which found its expression in outrageous fashions and a decadent nightlife. These were the "New Romantics" who are the leaders of a phenomenon which left a lasting influence on both the face and fate of pop.

Taboo is a story between a young girl and boy swept up in this exciting artistic climate and also focuses on two other young men, Leigh Bowery, a brilliant, anarchic performance artist and designer, and George O'Dowd, a young, rough-edged boy who arrives in London and, once part of the Eighties Club World, becomes the surprising crossover star of the Scene, Boy George. From squat to superstardom, from rock to rock bottom, both men's stories are played out against the fantastic background of Taboo, the nightclub that came to symbolise the excess and decadence of 1980s London and subsequently defined a generation.

Taboo is at the Liverpool Empire from Monday 5 to Saturday 10 July. Tickets start at £6.00 up to £24.00.