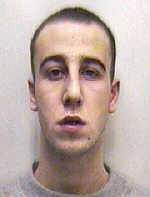 MERSEYSIDE Police are reiterating their appeal for the help from the public to find a man who escaped from police custody on June 3 after he assaulted a guard, fleeing to the city centre and continues to elude capture.

Still at large, Brendon Murray, 23, escaped from custody around 10.30 am after attending Liverpool Magistrate's Court on Thursday June 3, after stabbing and wounding a custody officer with a knife as he waited to face charges of robbery. It is believed that he is also being accompanied by his current girlfriend who is too scared to leave him.

Detective Chief Inspector Paul Richardson said:- "Murray is of medium build and about 5'10 tall with a shaven head. He is also known to frequent the Kirkdale area of Liverpool. We would ask the public to keep an eye out for this man, and provide us with information on his whereabouts. However we ask the public not to approach Murray as he could be very dangerous."

Murray has eluded capture for over a week since evading his charges and is now wanted for the assault of a prison guard. Information can be provided confidentially to Crimestoppers on 0800 555 111.
Delay in New Southport Waitrose Store Opening
A BRIGHT new supermarket will be opening its doors in Southport in about two months time.

A 100-strong team from Waitrose have already moved into the former Morrisons shop on Tulketh Street and will be pulling out all the stops to get it open as soon as possible.

To allow work to progress as speedily as possible the shop will close for about two months to allow new fixtures and fittings to be installed and to give the exterior a fresh new look.

When the shop reopens customers will find the shelves packed with the the highest quality food and drink.

Mark Price, Director of Selling and Marketing, said:- "We want to make our shop just right for our new customers.

We apologise for any inconvenience while the improvements are being carried out but we are sure that our new customers will really appreciate
the difference."

TEACHING AWARDS REGIONAL WINNERS ANNOUNCED
THE teaching Awards 2004 Regional Ceremony for the North West of England took place on Thursday 10 June at Knowsley Hall in Liverpool, the sixth annual event since the Teaching awards Trust was established by Lord Puttnam CBE in 1998.
This prestigious Ceremony was hosted by BBC anchor Dianne Oxberry of BBC North West Tonight and attended by Ian Kane, chair of the North West of England Awards Panel, and Barry Cooke OBE, Teaching Awards Trustee.
The ceremony was a celebration of schools across the North West of England and was an opportunity to pay tribute to the enormous contribution made by all the short listed nominees to their schools and the wider community. Sponsors included BT, the Guardian, the Innovation Unit, the Leadership trust, Promethean and the Teacher Training Agency.
Fifteen head-teachers and teaching staff from the North West of England each received a prize package worth over £4,500 for their school, including a £2,000 cash grant and an ICT package worth in excess of £2,500.

All nominations are assessed by a Regional awards Panel made up of representatives from the education community chaired by Ian Kane.

Panel members visit every short listed Nominee in their school to observe lessons and to hear testimony from members of the school community.

The North West of England Awards Ceremony is one of 13 events taking place across England, Wales and Northern Ireland during June.
Every Regional Winner will be invited to attend the Teaching Awards 2004 National Ceremony which will take place on 24 October at the palace Theatre in London and will be shown on BBC2 in early November.
HORSE RIDERS 'BETTER INFORMED ON HEAD PROTECTION THAN BIKERS' SAYS EXPERTS
HORSE-RIDERS have better information on the head protection available to them than motorcyclists, despite smaller numbers and far fewer accidents in the opinion of Motoring charity IAMS.
That was the message at a motorcyclists conference held by the charity recently. More than 150 IAM delegates heard that British Equestrian Federation has a helmet assessment programme that provides far more consumer information than anything available to bikers.