UK SCIENCE HAS KEY ROLE IN GROUND BREAKING NASA MISSION
UK scientists will play a key role in a new NASA mission to provide the most detailed examination yet of the Earth's atmosphere and ozone layer.

NASA's Aura Earth observation satellite will ultimately help scientists predict air quality, changes to the ozone layer and climate change on a global scale.

The UK Natural Environment Research Council has made a significant contribution to one of the satellite's four instruments - to study a part of the atmosphere which has previously been impossible to observe.

Colin Hicks, Director General of the British National Space Centre said:- "This is an important mission which will provide an insight into health hazards caused by deteriorating air quality in towns and cities across the globe. It will enable scientists to get the clearest understanding yet of climate change and an insight into its causes."

Aura, which is due to be launched from Vandenburg Airbase, California, on June 26, will take atmospheric measurements with unprecedented accuracy and coverage, providing extremely high-resolution data for scientists to develop the most accurate climate models for prediction purposes and track any predicted recovery of the ozone layer.

Flying at an altitude of 438 miles, Aura's instruments are specifically tailored to work together as well as separately to study atmospheric chemistry. Aura's measurements will be combined with other satellite missions to study the interaction of climate and chemistry.
If you want to get involved with Space, join UK SEDS. Visit www.uk.seds.org for more information.
Tennis Tournament Rescued
THE future of the Liverpool International Tennis Tournament is assured until 2008.
Organisers Northern Vision and Liverpool city council announced they are to develop the event into one of Britain's top Wimbledon warm-ups.
The news came just a year after the grass court tournament was close to folding because it fell within 100 miles of an event in Nottingham, which flouted ATP rules, Nottingham is 97 miles by car.
But now the tournament has been moved a week earlier in the tennis calendar to avoid a clash, and plans are being drafted to publicise the event for greater impact in time to highlight it as one of the celebrations of the forthcoming capital of culture dates (in 2008).
This year's tournament, which ends on June 13 revealed an appetite for the event among players attracting top 20 champions race players such as Vince Spadea and Ivan Ljubicic, Croatian No 1 Irakli Labadze as well as legends such as llie Nastase, Guillermo Vilas and 1996 Wimbledon champion Richard Krajicek.
More than a dozen businesses pledged their support this year and a schools education programme has seen 3,000 children also attend the event which is held at Calderstones Park, which is a public park in south Liverpool.
Anders Borg, Tournament Director, said:- ''We already have the perfect format and location and many of the players have told me they want to come back next year. The big advantage is that as a permanent fixture in the sporting calendar tennis fans can also start planning ahead too.
With Liverpool hosting a Year of Sport in 2006 and Capital of Culture in 2008, the next few years are going to be amazing for Liverpool and the tournament is ideally placed to be a part of that success story.''
MICROLIGHT FLYING CLUB HITS NEW HEIGHTS
Photograph Copyright of Ince Blundell Flying Club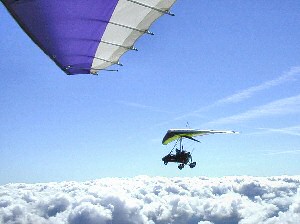 A member of Ince Blundell Flying Club near Formby has become one of only a handful of women in the country to qualify as a microlight pilot.

Tracy Twitchin won her National Private Pilots Licence after some 30 hours training on a flexwing at the West Lancashire Microlight School.

The PR consultant who has also skydived, abseiled, bungy jumped and most recently kite surfed, caught the flying bug two years ago when her husband bought her a trial lesson at the school nearby the Formby bypass.

"Big mistake," she said. "I love the combination of feeling exhilarated and at the same time totally stress-free. The view from up there puts a completely different perspective on life."

Tracy, 44, of St Helens Road, Ormskirk, had to complete a minimum of 25 hours training and pass exams in air law, meteorology, and navigation, among other skills that included mechanical and human performance. She is only the school's third female microlight pilot in its 12 years.

Wyman to Play Liverpool Concert for Unicef
FORMER Rolling stones bassist Bill Wyman is to lead an all star cast to celebrate UNICEF's spectacular 50 Years of Rock and Roll concert at the Summer Pops.

All net proceeds from the show at the Kings Dock Big Top Arena on July 5 are to go to UNICEF, The United Nations Children's Fund that works to provide a decent start in life for youngsters living in horrendous conditions around the world.

Following the huge sold-out success of last year's Summer Pops concert in aid of Unicef featuring Eric Clapton and John Mayall. This year's show celebrates 50 years since Elvis Presley recorded 'That's Alright Mama' in Memphis.

Wyman said:- "UNICEF is a very special charity and this show will be a unique celebration of the one thing that binds us all together, the music. It should be another unbelievable night at the Kings Dock!"

Bill Wyman and friends join the impressive list of stars appearing at the Summer Pops this summer:- Tom Jones, Westlife, Will Young, Busted, The Corrs, Macy Gray, Jamie Cullum, Donny Osmond, Bryan Ferry, James Taylor, Michael Bublé, Lulu, Liz McClarnon, The Australian Pink Floyd Show, Love, Jools Holland, Bonnie Raitt, and Carl Davis with the Royal Liverpool Philharmonic Orchestra.

The Summer Pops is organised by Chas Cole for CMP in association with Liverpool City Council.