Charity football match helps raise money for Wirral children's hospice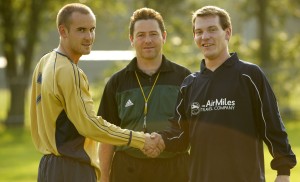 AS football fever grips the nation local companies, The AirMiles Travel Company and Gold Medal Travel last week held a charity football match to raise money for the Wirral's children's hospice, Claire House.

The teams battled it out in a nail biting match with final victory going to Gold Medal, winning by 6 goals to 2. The game was organised by good friends Mal Barritt from Gold Medal Travel, who are based in Preston and Leigh Collis who is Head of Training at the AirMiles Travel Centre in Birchwood.

Leigh said:- "It was a great opportunity for all staff to get involved and have some fun while really making a difference to the children at Claire House and supporting such a good cause".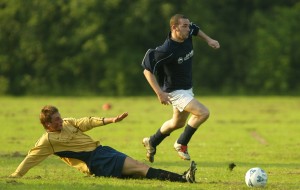 Claire House is a registered charity that relies entirely on the generosity and help of people in the region for all of it's income and running costs. The hospice cares for children up to 18 years old with life threatening or life limiting conditions and provides support for their families from Merseyside, Cheshire, North Wales and the Isle of Man. Gold Medal also held a non uniform day on Friday, earning £405 for the charity.
CAFOD launches Sudan Emergency Appeal
CAFOD have launched an emergency appeal for Sudan in response to the spiraling humanitarian crisis in the Darfur region.

Supporters of the Catholic aid agency throughout the Southport area will be holding events to raise awareness and funds for what is currently the world's worst humanitarian disaster. Parishes are holding a special mass and school assemblies will focus on Sudan.

Theresa Codd from CAFOD West Midlands said:- "We need your help urgently. There's up to a million people out there facing a life or death situation. We're working closely with our Sudanese partners to provide food, shelter, water and sanitation. What we need is funding to continue this work, time is running out for the people of Darfur."

There are already signs of severe malnutrition and disease amongst the displaced people of Darfur. The rainy season has already started and will soon cut off huge areas.

CAFOD's emergency programme officer Alistair Dutton, who is leading the emergency response of the Caritas International network of Catholic agencies, is currently in Sudan. He said:- "Out here we're working to provide shelter, food and health care. For people to receive the help they need it's essential that security is restored in the region as soon as possible. Back there in the Southport area we want people to dig deep so we continue to fund this urgent work. A small donation of £40 will buy a household kit for a displaced person including a mosquito net, blanket, water container and kitchen utensils."

The Darfur conflict began early last year after two local rebel groups took up arms against the government of Sudan, claiming that the region was being neglected by Khartoum. While there has been a ceasefire between government and rebel forces in place since April 8, fighting has escalated.

There are now around 1.2 million people who have been displaced from the region by the conflict and a wider campaign of looting, killing and rape by a militia known as the Janjaweed.