SWITCHED ON THIS WEEK WITH ALL THE BEST BITS ON UK TV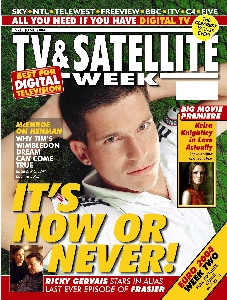 Writen for us by Caren Clark of TV and Satellite Week Magazine. for the week starting Saturday 19 June, ending Friday 25 June
1. Most Haunted Live:- Summer Solstice Living TV. Saturday-Monday 9pm. Join Yvette Fielding and Derek Acorah as they mark the longest day of the year with a special ghost-hunting investigation in Derby which claims to be Britain's most haunted city.
2. Anna Bares All Sky One. Saturday 10pm. Catch up with outrageous model Anna Nicole Smith as she hits New York Fashion Week to unveil her new slimline figure.
3. Next Action Star Sky One. Mix Sunday 7.45pm. What does it take to be the next Arnie or Bruce Willis? A group of 14 wannabes battle it out to impress producer Joel Silver (The Matrix) and win a lead role in a TV action film.
4. Men in Frocks Sky One. Sunday 8pm. NEW SERIES. Six plucky guys unleash their feminine sides as they undergo a girly makeover and a SERIES. of challenges to see which one makes the most convincing woman and deserves to win a holiday.
5. Alias Bravo. Sunday 9pm. Alias: Ricky Gervais Bravo. Sunday 10pm. Fresh from his Golden Globe success, Ricky Gervais guests as a bomb maker in the hit spy drama, then stay tuned for a special behind-the-scenes documentary charting Gervais' transition from comedy to drama.
6. The Celebrity Penthouse Sky One. Sunday 10pm. NEW SERIES. Could it be a battle of the egos when two famous faces are given the task of spending 24 hours together in a luxury apartment? First up Jodie Marsh finds a new housemate in James Hewitt.
7. Glastonbury Calling BBC3. Monday-Thursday 8pm. Glastonbury 2004 BBC3. Friday 7pm. & 10.30pm. BBC2. 11.35pm. Colin Murray and Edith Bowman continue with daily previews of Britain's biggest music festival before live coverage kicks off on Friday.
8. Sport in the 60s BBC4. Monday 10pm. As part of BBC4.'s Sixties season, a host of celebrities take a look at how the decade really brought sport into our living rooms.
9. The Model, The Poster and 3000 Women Channel 4. Tuesday 10.45pm. L'Enfant, the iconic poster of a man cradling a baby, was a best-seller in the 1980s. This special show tells the story behind the picture and sees how the two models have fared.
10. Frasier:~ Analysing the Laughter Channel 4. Wednesday 9pm. My Favourite Frasier Channel 4. Wednesday 9.45pm. Frasier Channel 4. Wednesday 10.50pm. LAST EPISODE. As the world's favourite psychiatrist bows out in style with special guests including Robbie Coltrane and Richard E. Grant, the show's stars reveal all in a ribute show, while celebrity fans share their best moments.
Get 6 issues free! No risk! No commitment! Don't miss out!Get 6 issues of TV & Satellite Week absolutely free. If you enjoy the convenience of TV & Satellite Week delivered direct, you can continue your subscription at just £10.99 every 3 months… free post and packaging. What's the catch? There isn't one; if you decide you don't like having TV & Satellite Week delivered direct, just cancel your direct debit upon receipt of your 4th free issue and you'll pay nothing. Telephone inquiries:- +44 (0) 845 676 7778 and quote 31W for this great offer or online:- www.tvsatsubs.com/ITSCA