LOCAL MAN IN-LINE FOR GOOD SAMARITAN AWARD
WHISTON man John Berrigan is inline for an award from Royal Liver Assurance for acting beyond the call of duty.

Father of 2, John, has been short-listed for a Community Champion Award from a total of 250 home service representatives who collect premiums for the friendly society.

Over the last 14 years John's acts of goodwill include collecting prescriptions for customers, putting bins out and changing light bulbs, but John regards that as an important part of his job.

John said:- "If you're going in and out of people's homes on a regular basis, it's not surprising that customers become friends. They know that I'm happy to lend a hand and help out whenever possible."

John's loyalty to customers meant that he visited a bed-ridden lady every fortnight at the same time to make her sandwiches and a pot of tea for lunch.

Neil Davies, head of Home Service UK, said:- "We know there are so many home service representatives who go far beyond the realms of their job to help our customers and we wanted to recognise the goodwill of people like John."

The winner of the home service community champion award will be announced by Royal Liver at the start of 2005.
AIR AMBULANCE NIGHT HOSTED BY GRANADA'S PAUL CRONE
PAUL Crone from Granada TV is to host a night at Roberta Lee's in Southport in aid of the Air Ambulance. The night will be the debut night of Klark James. The night is by ticket only and doors open at 8:00pm. You can get tickets from Roberta Lees at the cost of £5.00. Phone:- 01704 233952 for more information and to book tickets.
Paul Crone said:- "This will be an entertaining and very lively night that you should all put in your diaries as do not miss! So see you at the event and do not be lat getting tickets as they will sell out fast."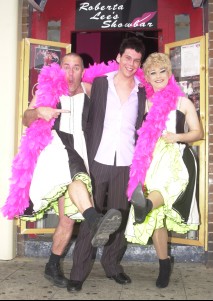 HUB festival celebrates Mersey Street Beat
ONE OF THE UK's biggest celebrations of hip hop, skateboarding, BMX'ing and graffiti art is about to hit the streets!

The HUB festival is blazing onto Liverpool Pier Head in July with a huge, free, 2 day event aimed at anyone passionate about youth culture.

The biggest names in skateboarding and BMX are coming to the city to perform some of their most innovative, mind boggling tricks. They include world champion skateboarder Simon Tabron, and one of the most renowned BMX riders in the world, Phil Dolan.

Music will be supplied by some of the hottest, new hip hop acts from the US and UK, including artists from Def Jux Records, the world's largest independent hip hop label. And 52 of the finest graffiti artists from all over the world will create a giant, 500 metre wall of art work - which has to be seen to be believed! Flying over from New York will be graffiti legend Dr Revolt, who appeared in the 1981 cult film, 'Wild Style'.

A huge 'street course' is being constructed for all boarders, skaters and BMX'ers to show what they can do. There will be amateur skateboarding, BMX and in-line skating competitions for under 18's - with an i-pod, electric scooter and decks up for grabs.

With new local bands signing up each week, the Pier Head will be buzzing with sound, colour and fast-paced action at the beginning of July.

Marketing Director for the Liverpool Culture Company, Kris Donaldson, said:- "Liverpool's Pier Head is the place to be for young people. July's HUB festival is one of the country's biggest celebrations of street culture, and it's free!

It's fantastic that we have been able to attract some of the world's best skateboarders, BMX'ers, rappers, DJ's, bands and graffiti artists from all over the world to the city. It's a fantastic opportunity for young people from across the region to enjoy the best of street culture, get involved, and witness a fantastic, fast-moving display of creativity and innovation.

Last year's HUB event was a huge success with young people from across the region - and we're turning up the heat for this year's event, making sure it's bigger, better, louder and faster than ever."

HUB explodes onto the scene on Saturday 3 and Sunday 4 July. For more information, call the hotline on 0151 233 2008. You need a good excuse not to be there!