£ on £ of Prizes to give away....
YOU could win some very expensive prizes very soon on Southport and Mersey Reporters. All you have to do is keep logging on and keep an eye out for what is going to be a very interesting time over the next few weeks. Lots more about this next week. Just a hint of some of the competition prizes to come up. HMV music, Movie Tickets and lots more.... some big some small.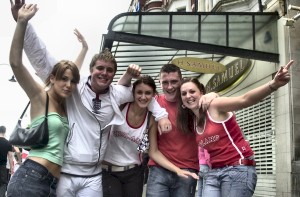 AS England scored 3 nil on Thursday night Southport joined the rest of the nation in celebrations. Hundreds huddled in pubs, burst out into song and drivers of cars blasted their horns in salute to the team. Come on England… Merseyside is behind you on Monday Night! These fans were photographed out side the Old Bank in Southport, celebrating the victory on Thursday night.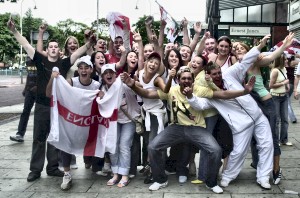 GOVERNMENT BACKS NATIONAL GET FIT CAMPAIGN
AS concern about increasing obesity levels and inactivity grows, the NHS is supporting a huge national fitness campaign this summer, which aims to encourage up to 100,000 people to make regular activity a part of their lives.

'Commit to Get Fit' will see over 500 health clubs and leisure centres offering free walking fitness assessments to the public, along with discounted short term memberships, providing the perfect way for people to take the first steps to a healthier lifestyle.

A host of celebrities have supported the campaign as it has grown in recent years. They include sporting heroes such as Daley Thompson, Seb Coe, Sally Gunnell, James Cracknell and Sue Barker, along with stars from the world of entertainment such as Arnold Schwarzenegger.

Sir Steve Redgrave said:- "I am delighted to support this year's Commit to Get Fit campaign. As someone who has diabetes, I know that physical activity can help with diabetes control. In some cases taking exercise can also prevent or delay Type 2 diabetes from developing. Commit to Get Fit is a great way of encouraging us all to get fit and feel healthy."

Commit to Get Fit has generated more than £1 million for charity, and this year all money raised by clubs and participants will be donated to Diabetes UK

The campaign is also supported by the National Health Service and plays an important part in their commitment to the national health agenda, providing the ideal kick-start for people seeking motivation to begin building active into their lives including working out regularly.