GET ON YOUR BIKE WITH HENSHAWS
HENSHAWS Society for Blind People is offering cyclists the chance to raise money for blind and visually impaired people in the area by taking part in the annual Manchester to Blackpool Bike Ride on Sunday 18 July.

The charity, based at the Strand in Liverpool, is offering places for only £10 per person, and every penny raised in sponsorship will help Henshaws make a difference to the lives of blind and visually impaired people in the local community.

The scenic 56-mile route from Albert Square in Manchester to Stanley Park in Blackpool is a great day out for everyone, young or old, and is popular with groups of friends or family.

Mike Newman, holder of the blind land-speed record and a supporter of Henshaws said:- "I'm looking forward to taking part in the event on a tandem. It's a really fun and enjoyable day out, with a friendly atmosphere amongst the cyclists."

The Liverpool Centre offers an extensive range of training opportunities, leisure and social activities along with information advice and support. The Southport Centre provides residential care for 43 visually impaired residents in purpose-built, comfortably furnished self contained flatlets.

To take part in the Manchester to Blackpool Bike Ride and support Henshaws Society for Blind People, contact Heather Burroughs on 0161 786 3661, email events@hsbp.co.uk

CAFOD launches Sudan Emergency Appeal

CAFOD have launched an emergency appeal for Sudan in response to the spiralling humanitarian crisis in the Darfur region.

Supporters of the Catholic aid agency throughout the Southport area will be holding events to raise awareness and funds for what is currently the world's worst humanitarian disaster.

CAFOD's emergency programme officer Alistair Dutton, who is leading the emergency response of the Caritas International network of Catholic agencies, is currently in Sudan.

He said:- "Out here we're working to provide shelter, food and health care. For people to receive the help they need it's essential that security is restored in the region as soon as possible.

Back there in the Southport area we want people to dig deep so we continue to fund this urgent work. £40 will buy a household kit for a displaced person including a mosquito net, blanket, water container and kitchen utensils."


The Darfur conflict began early last year after two local rebel groups took up arms against the government of Sudan, claiming that the region was being neglected by Khartoum. While there has been a ceasefire between government and rebel forces in place since 8 April, fighting has escalated.

There are now around 1.2 million people who have been displaced from the region by the conflict and a wider campaign of looting, killing and rape by a militia known as the Janjaweed.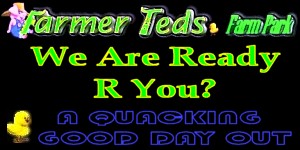 Sefton Cycle Challenge 2004

THIS years second Cycle Challenge was held in Formby with the start and finish point at St Jerome's School. The route took young children and adults around the Formby Pinewoods and despite the rain the event proved bigger than other years. "It is just getting better and batter. More people want to get fit and have fun at the same time." one of the organisers told us.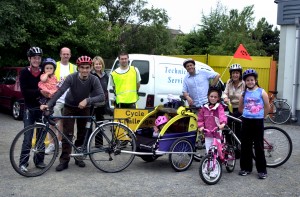 Do You Know The Driver Of This Van?
DO YOU know the driver of this van or it's location? It is white, with registration YCS3LYH. Anyone with information is asked to contact Crimestoppers on 0800 555 111.
Formby welcomes Numark Pharmacy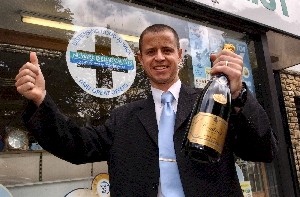 A FORMBY pharmacist is celebrating this week after becoming the 1675th member of Numark - the UK's largest independent pharmacist.

Martin Gough from Ryder's Chemist on Old Town Lane has been a familiar face in the town for the last ten years, and is a keen charity fundraiser recently raising money for the Anthony Nolan Trust by completing The London Marathon.

Having built a loyal local customer base Formby-born Martin is hoping that by becoming a member of Numark he will be able to offer a broader range of products at more competitive prices.

He said:- "My customers will still see the same faces and receive the same high standard of service. The main benefit of being a Numark member is that as a buying group they can negotiate great deals with the wholesalers, I can then pass on the savings to my customers."