PAINT DONATION BREATHES LIFE INTO NEW SOUTHPORT DROP-IN CENTRE
THE Dulux Decorator Centre on Kensington Industrial Park, Southport, has donated £400 worth of paint and materials to a local homeless peoples'charity so that it can refurbish its offices on Hawkshead Street.

Light for Life, which works with more than 1000 Southport people every year, will be using the products to refurbish its new-look support centre and staff headquarters.

The building, known as 'Number Five', was originally used as the main hostel for the charity, but will now provide a base for their floating support team.

This will run in addition to the charity's highly successful Youth Training and Involvement Programme (YTIP), which teaches youngsters vital life skills and runs various activities to boost confidence and provide a support framework for some of the area's most vulnerable people.

While Forum Housing opened a newer, bigger hostel on Leyland Road, Light for Life shifted its focus to rehousing the homeless. They now run their YTIP training centre on the Leyland Road hostel grounds, and the Number Five property will work in alliance with this venture.

The building will also host a drop in service for young parents who can use the Internet and kitchen facilities while their children play in the garden.

Other remaining office space will also be offered to local community groups or converted into additional living accommodation for clients.

Light for Life started in 1990 when a group from a local church bought the Hawkshead Street property using a combination of council funding.

Jane Stephenson, Fundraiser for the charity said:- "Light for Life doesn't just provide a roof over peoples' heads. We have an ongoing service that gives full support to people at every stage of rehousing. That's why this drop-in centre, combined with the new training centre."

The paint donation was made as part of Dulux Decorator Centres' 'Colouring the Community' campaign, which involves stores giving paint and equipment to transform charities, schools and other community buildings across the country.
Southport Reporter HMV Store Competition Starts Next Week!!!
NEXT week we are running on of a few summer competitions for all you readers. The first one will be with thanks to our friends at HMV. So do not forget to log on next week and see what you can win!
IF YOU WIN… YOU WILL NOT BE DISAPPOINTED!
BRITISH WATERWAYS LIVERPOOL LINK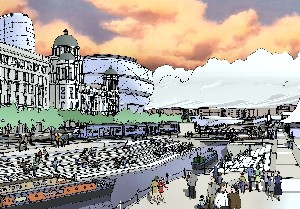 BRITISH Waterways submitted earlier this year its plans to build a Canal Link across the Pier Head linking the city's Central and South Docks to Liverpool City Council. The plans are now being closely studied by Liverpool City Council.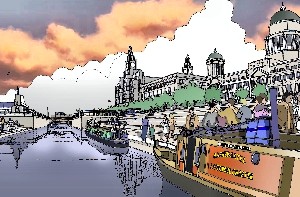 The innovative £15.5 million scheme will allow boats to sail from the Leeds & Liverpool Canal, past the world famous Three Graces and into the Albert Dock.

British Waterways, which manages 2,000 miles of inland waterway in England, Scotland and Wales, made the application following overwhelming public support that is still being given. It is now hoped by many who use the canal that the plans will be approved soon. If the Liverpool Canal Link project gets the green light, it is expected to increase support and the ability to use the canal as yet another tourist attraction that will lead to continuing regeneration along the canal. It is also hoped that the expansion will also help events like the Mersey River Festival.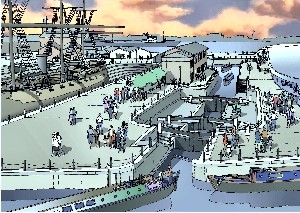 Liverpool City Council, Liverpool Vision and the Mersey Dock & Harbour Company have all expressed support for the project and are continuing to support the plans.