Photographs by Patrick Trollope
WHAT a day, not only the high winds made it hard to get into the spirit of things, but the rain looked as if it would dampen the spirit. That was not to be though as the show must go on and Southport's brave took to the streets and put on want was the best Southport Carnival yet. For the fist year running, the Champion ran it and editor Martin Hovden told us "It was just a fantastic, sorry champion. The parade was fantastic and so much effort had gone into the building of the floats that it was nice to see Southport turn out to support the participants despite the horrid weather." Southport Reporter editor Patrick Trollope was behind the senses with the Association for Children with Hart Disorders float. Patrick said:- "As many readers know, we entered last years Carnival. Our float was easy to erect compared to some of them. I decided, when we were asked for advice, to pop along and see just how the other groups built their floats. The Association for Children with Hart Disorders team started building their float on Friday and then came back on Saturday to finish off the float. By the time I got to them on Saturday at 8:00am they were well under way again. I found out they started at 7:00am on the float. That was just finishing it off. I fitted a PA on the truck for them and then all of us had to quickly run for cover as the heavens opened. By 10:00am the truck was covered with plastic sheets as the rain lashed down. Sadly the PA got drenched and failed on the way down. Thanks Andy for coming from Formby to try and fix it. Sadly it was to wet to fix. This did not dampen the atmosphere on the float though and they did not need it as the float looked fantastic. I left them to go and take photographs of the parade and then later met up with them at the end of the parade. The kids were cold and wet, but all of them had fun. Most importantly the efforts of that charity's team paid off, as they got awarded the Parade Champions Trophy. After seeing all the hard work they put in the Saturday, I was pleased they got it. It is hard to appreciate the amount of work some groups do, until you see it for your self."

Well done to the Champion newspaper and to all who took part, for delivering a fantastic show and not giving in to the weather.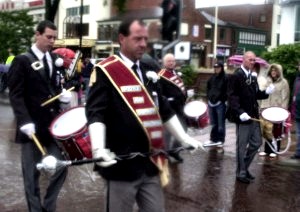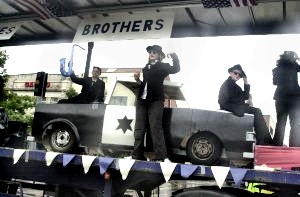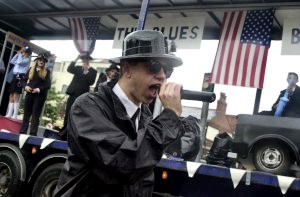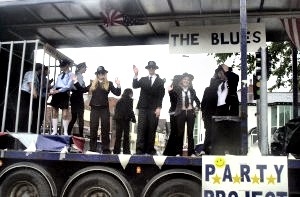 Page 1 of 9