THE twelfth Monopoly World Championship in Tokyo has formerly invited players from the Northwest to roll for big money, albeit fake, to pit their wits against the world's finest players later this year.

Currently running every 4 years, the British representative Parker will be holding a final on September 3 to find a home-grown Monopoly enthusiast to roll up for the World Championship the following month.

Held at HMS Belfast, London, the British heat will see 64 contestants compete to own it all. HMS Belfast will provide the ideal setting for the Championships as the battleship is one of the game's traditional playing pieces plus the venue offers fantastic views of London, the city that provides the overall theme for the game.

Played in a knock out style contest, the British Monopoly Champion 2004 will receive £5000 in prize money and an all expenses paid trip to Japan. When in Tokyo, the champion will join winners from over 30 countries worldwide to compete for the coveted title of 'World Monopoly Championship'.

Full details are available via www.monopoly.co.uk the official Monopoly site where contestants must got o enter. Hopeful contestants will be able to enter from 11 June right trough to 30 July and must be 16 years or over.
PLANS FOR NEW HOMES IN POPULAR WIRRAL LOCATION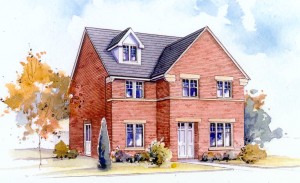 FOLLOWING the tremendous success of the Cherry Gardens development in Hoylake, where all 22 apartments were sold off-plan, planning permission to build nine houses in the sought after and picturesque village of Thingwall, near Birkenhead have been approved.

Rob Foster, managing Director of Antler Homes North West, remarked, "As one of the few new developments in this desirable area, Thingwall Grange will offer homebuyers the opportunity to purchase a new home."

The nearby village of Barnston offers resident's access to a number of local amenities including a village store, a church and a pub, while nearby Asda provides a wider choice of goods. Attractions in the area include Arrowe Country Park, with its 425 acres of woodlands, water features and a visitor center. The park also offers leisure opportunities including a golf course, tennis courts, a football pitch and a horse track.

Construction of the houses at Thingwall Grange is due to commence in September 2004, with prices anticipated to start from £350,000.
CROXTETH'S INDEPENDENCE DAY
TTRADITIONAL English surroundings of Croxteth Country Park in Liverpool will be transformed into an American ball park this weekend.

To celebrate US Independence Day, an American Sports Day is being held between 12 midday and 5pm on July 4 complete with cheerleaders, American football and the star spangled banner.

There will also be a sports academy put on by Myerscough College featuring golf and soccer skills, and rugby demonstrations from Liverpool Collegiate.

Van Garber from the American Entertainment Agency, who are organising several of the displays, said:- "It's amazing to see the insurgence of American Sports in Merseyside. We hope to build this into an annual event with the help of Croxteth Hall staff. Everyone there has been very supportive."
FA CUP DRAW OUT THIS FRIDAY
WHILST the next 7 days will determine the winner of Euro 2004, the FA is already gearing up momentum for the start of the new domestic football season.

The entries accepted, list exemptions, round dates and early round draws for the FA Cup, FA Youth Cup, FA Trophy and FA Vase will be released at 12 noon on Friday 2 July 2004 at www.TheFA.com.

The draws will be released as follows:-

The FA Cup:-
Extra preliminary (72 ties)
Preliminary (182 ties) &
First Round Qualifying (124 ties)

The 124th FA Cup will have a record number of 660 entries; the previous highest was 656 in 1921/22. Last season there were 644 entries.

37 new entries have been accepted and the exemption criteria has been altered as a result of the re-organisation of the National League System as follows:-

4th round Qualifying - 22 Conference National Division Clubs
2nd round Qualifying - 44 Conference North & South National Division Clubs
1st round Qualifying - 66 Isthmian, Northern Premier & Southern League Premier Division Clubs
Preliminary Round - 88 Isthmian, Northern Premier & Southern League 1st Division Clubs

The FA Youth Cup, in partnership with Pepsi:-

This will be the 53rd FA Youth Cup, and in 2004/05, it too will have a record number of 385 entries, with 67 new Clubs accepted.

Ties in the Qualifying Round will be played in set weeks instead of spread over a 2 or 3 week period, but ties in the Competition Proper will still be able to be played by a closing date for each round.

On Friday 2nd July, 37 Preliminary ties, 128 First Round Qualifying, 64 Second Round Qualifying and 32 Third Round Qualifying ties will be released on www.TheFA.com.

The FA Trophy, in partnership with Carlsberg:-

The FA Trophy is in its 36th Season, and will have 220 entries (205 in 2003/04). All the entries are drawn from the Football Conference, Isthmian, Northern Premier and Southern Leagues.

The 22 Football Conference National Division Clubs and the Holders, Hednesford Town are exempt to the Third Round.

15 new clubs have been switched from the FA Vase as a result of the National League System changes and Carlisle United and York City are welcomed from the Football League.

The prize fund of £670,000 covers all 9 rounds with £50,000 to the winners.

On Friday 2nd July, 33 FA Trophy Preliminary Round ties and 82 First Round ties 82 will be released.

The FA Vase, in partnership with Carlsberg:-

The FA Vase is in its 31st Season and has 483 entries, with 43 new Clubs accepted, plus 2 from the FA Trophy.

The FA Trophy now has an increased prize fund amounting to £400,000, spread across all 10 rounds, with £15,000 to the winners.

On Friday 2nd July, 75 First Round Qualifying and 179 Second Qualifying Round ties will be released.

The FA Sunday Cup, in partnership with Carlsberg:-

This season, a prize fund has been introduced to the FA Sunday Cup, replacing the grant scheme which covered match expenses.

The new prize fund of £32,000 means that clubs will be given an even greater incentive to progress through the rounds, with the overall winner receiving at least £2,500 in prize money.