Ministry Of Sound launches 'BIG Night Out' in Ibiza
WITH the Ibiza season imminent, Ministry Of Sound introduces its brand new night for summer 2004 - BIG Night Out - every Wednesday until September 8 in Eden, San Antonio.

Ministry of Sound in 2004 will get back to what clubbing is all about - a BIG crowd, a BIG NIGHT OUT, dancing to the BIGGEST tunes, in the BIGGEST party Capital in the world - All at Eden, one of Ibiza's most established and BIGGEST clubs.

Ministry of Sound will deliver a great atmosphere and all the BIGGEST club anthems for an up-for-it audience tired of anally retentive music that seems to have infiltrated Ibiza clubs over recent summers!

With the best in funky, girly house and pumping club anthems, the night will be a return to the clubbing vibe that made Ibiza famous, where it's all about dressing up, living it up and getting down!

So, if you're on holiday and fancy some noodly House, stay well away! If you want to loose it BIG time get down to Ministry of Sound's BIG NIGHT OUT at Eden starting every Wednesday from 23rd June until 8th September.
Welsh Minister to visit Liverpool
LIVERPOOL will give a warm Welsh welcome to the First Minister for the National Assembly of Wales.

Rhodri Morgan will take part in a special reception at the Town Hall where he will meet leading welsh men and women who have made Liverpool their home.

More than 50 members of the Merseyside Welsh Heritage Society will welcome Mr. Morgan to the city.

The event will be a home from home for the First Minister as the Liverpool Welsh Choral Union will pay a vocal tribute to the guest of honour.

Other guests at the reception include Executive Member for Leisure and Culture, Councillor Warren Bradley and Liverpool City Council's Deputy Chief Executive Phil Halsall.

Councillor Bradley said:- "It is wonderful to be able to welcome First Minister Rhodri Morgan and I'm sure he will be delighted to meet his Welsh contingent here in Liverpool!

"The visit is also a great opportunity for him to see how well Merseyside has used its Objective 1 money to revitalise areas of the city."

The First Minister will visit Objective 1 projects in the city - an area he is particularly interested in as West Wales is also an Objective 1 area.

He will also visit Liverpool City Council's One Stop Shop to see how the innovative and groundbreaking operation works.

Mr. Morgan will spend time at the World Heritage Waterfront and touring around some of the key city centre regeneration areas including Ropewalks and the Cultural Quarter.

Another focal point for his trip will be to visit the Speke Garston Regeneration Project, including sites such as the John Lennon Airport, the National Bioscience Centre and the Boulevard Estuary Business Park.
EMAIL US ALL YOUR VIEWS & NEWS TODAY
REMEMBER IF YOU HAVE ANY EVENTS YOU WANT US TO COVER EMAIL US TODAY!
Youngsters Gripped by Interactive Language Learning Mania
UNDER 11's from a primary school in Liverpool have shattered the illusion that Brits are natural under-performers in the language stakes, after beating thousands of hopefuls from across the UK to secure a place in the semi-finals of national knock-out competition.

Four pupils from Liverpool College Prep secured top scores, with Zoe Dennis coming second in the region's highest scorers of EuroTalk's competition.

Following heats in 7 centres across the UK, the top three scorers from each region will learn Zulu and battle it out at the finals in November at London's Language Show.

The lucky winner will have the chance to fly out to South Africa, courtesy of Virgin, to officially open a new interactive classroom built by Thare Machi Starfish.

A survey undertaken during last year's competition revealed that 98 per cent of competitors owned or had access to a computer. Dick Howeson, competition organiser and chairman of EuroTalk, sees technology as a key force in inspiring language learning and improving performance,

Contrary to national statistics, it is not just the girls who are hooked on language learning, but the boys too - EuroTalk Language Challenge 2003 saw the boy-girl performance gap narrow overall, with 48 per cent of male entrants gaining top scores.
Westminster Tackles Eco-Travel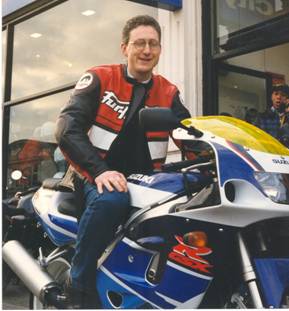 POLITICIANS are encouraging people to ride to work on a motorbike or scooter to enjoy the benefits of shorter journey times. People without their own bike can join in by teaming up with a friend or colleague who can take them as a pillion.

Liberal MP, Lembit Opik, a keen motorcyclist, and chairman of the All Party Parliamentary Group for Motorcycling, has leant his support to the Ride to Work Campaign organised by the Motor Cycle Industry Association.

Ride to Work Day on 28 July is an event that aims to demonstrate that motorcycling has environmental, social and economic benefits and that riders come from all walks of life.

Under the banner 'Motorcycling Means Freedom', the message of this year's campaign highlights the advantages of riding a bike or scooter.

Lembit Opik said, ""Ride to Work Day" aims to show that motorcycling not only has economic, social and environmental benefits, but that it's fun too. It will also highlight the fact that it takes less time to get to work by bike than it does by car. You can actually halve your journey time in London, and reduce it by a third elsewhere. That gives you more time to live life, and less time being a prisoner of Britain's gridlocked rush-hour roads."