Reward in Cheung Shing Cheung Murder Enquiry
THE group Crimestoppers are offering up to £5,000 as a reward for information leading to the arrest and conviction of any outstanding offenders in the Cheung Shing Cheung Murder enquiry.

The money has been offered to encourage those with information about Mr Cheung's death to come forward.

A murder enquiry was launched following the discovery of 51 year old Cheung Shing Cheung's body at his home address in Pine Court, Birkenhead, on Saturday, 15 May. A post mortem revealed that Mr Cheung died as a result of blows to the head.

Anyone with information is asked to contact Crimestoppers on 0800 555 111 or 0151 777 2525, the service has a multi lingual message in English, Cantonese and Mandarin, and an answer machine is in place.
Youths Throwing Bricks on M57 Motorway
AT ABOUT 7pm on Wednesday 14 July Merseyside Police received a number of calls that youths were throwing bricks at on-coming traffic on the M57 motorway at Whiston in Knowsley. Shortly after receiving these calls a road traffic collision occurred when a lorry was struck on the windscreen by a missile. The missile caused another vehicle, a Nissan Micra, to take avoiding action, subsequently colliding with the central reservation near to the location.

The incident entailed closing two lanes of the southbound carriageway and one man was removed to hospital with minor injuries.

Neighbourhood Inspector Shaun Holland said:- "Recent events have highlighted the possible tragic consequences of such irresponsible behaviour and Merseyside Police are treating these incidents extremely seriously. Increased police patrols will be deployed in order to combat this dangerous behaviour. I would also like to remind parents to be aware of where their children are and what they are doing during the light nights of the summer holidays."

Anyone who witnessed the incident or can identify the youths involved is asked to contact Crimestoppers on 0800 555 111.
The Controversial Orangemen's Parade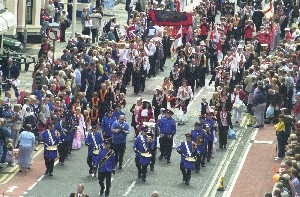 THE annual Orangemen's parade took place this week on Monday 12 July. The parade marks the battle of the Diamond in 1795 and the Orange Order which was formed in Armagh, soon after. The controversial parade, which some say should be stopped but others say 'adds colour' to the town and is 'tradition', passed off reasonably peacefully this year.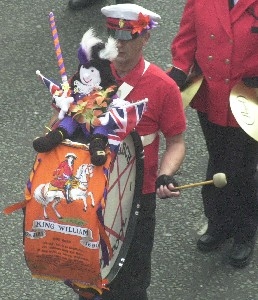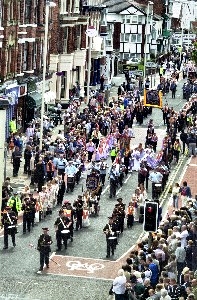 Page 1 of 3