OLDHAM SCHOOL GIRL MEETS TOP OF THE POPS IN SOUTHPORT
WELL a bit latter than expected, we finally get to bring you this report. On Wednesday 7 July the BBC's Saturday Morning Top Of The Pops came to Pleasureland to surprise a young ladies from Oldham. The had with them her favourite band called V. V is the latest band to hit the carts and is more known for backing boy band Busted, but from all the bands and pop stars on this planet, she picked V as the band she would like to meet. When we asked her why she wanted to meet them she said:- "They are good and deserve support as they are new. They are a fantastic band and are really friendly. That is why I wanted to meet them. I never knew that my name had been picked by Top Of The Pops to meet them. I am just so trilled." The program went out on Saturday 10 July to the nation on BBC1.
(ABOVE) The band hides before suppressing the school girl on the Tramatizer.

(ABOVE) Getting ready for action as the boy band V warms up.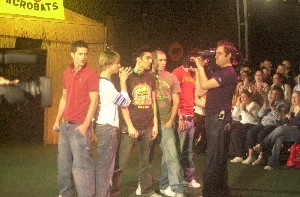 (ABOVE) V above performing to the winners school and to her in Pleasureland's Big Top.
HMV SOUTHPORT NOW OFFICIALLY OPEN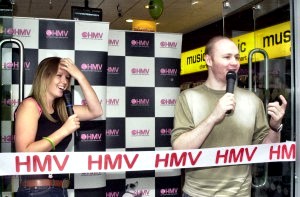 WITH the rain poring down outside on Thursday July 15, the crowds sill built up as Rock FM conducted the countdown to the official opening of the new Store. Fans flocked over to see Nipper the dog and the Holly Oak stars Nick Pickard and Ali Bastian. Boy o'boy what an event full opening it was at that. The store confirmed itself as top dog, not only having given us a competition for our readers, but also the Midweek Visitor had one and to make things far more interesting, they even gave away some CD's on official opening day and a £250 Spending Spree on the same day! The store also looks stunning, so keep an eye out for more goings on... They don's call HMV "top dog" for nothing...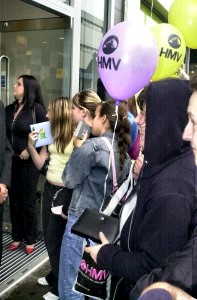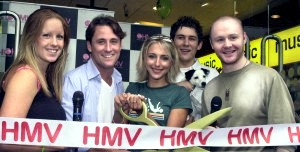 Page 1 of 3