DANDY OWNERS CLUB
Meet at the Riverside.
OVER 34 Dandy units gathered at the Riverside Camping park for the weekend 9 July to the 11 July.

The Club members had traveled from as far away as Cambridge, Sheffield, and Anglesey the shortest trip being made by a member from Birkdale.

Arrangements were made for the members to visit Riva Leisure premises, the manufacturers of the Dandy Caravan, in nearby Wrightington. A vintage double decker bus collected a large number of interested members for an informative morning.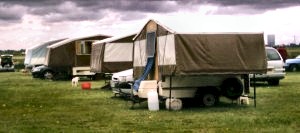 Many of the members enjoyed the entertainment in the on-site club during the Saturday evening. Following the Flag Meet on Sunday morning most of the units headed off for home, but a few remained behind to enjoy a few more days holiday.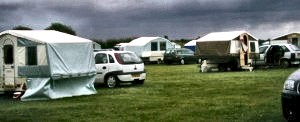 An excellent weekend despite the poor weather.
THE ARGARMELES WEEKEND OF DANCE
THE Argarmeles Clog Dancers entertained nine other Morris Teams for a Weekend of Dance. Two weeks later than usual, but the weather was no kinder. However, dancing displays were to be seen in several venues throughout the day, despite the inclement downpours.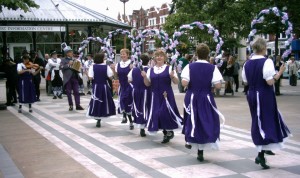 The visitors were invited to a "jam session" at the Scotch Piper on the Friday evening, many of them camping behind the Lydiate Village Hall for the weekend. On Saturday morning coaches transported them to Southport for dancing in the Princess Diana Gardens, by the Bandstand, and later near the Pier and Kings Gardens. The teams completed the day, with all the ten teams collaborating in a spectacular mass dance for all to join in. The evening entertainment in the form of a Ceilidh (just in case they had not danced enough) took place at the Lydiate Village Hall.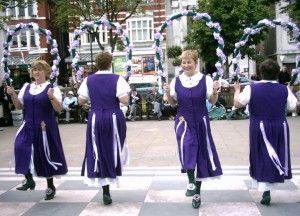 Sunday morning saw them dancing again, in front of the Scotch Piper, and enjoying a BarBQ provided by the Lydiate Scouts.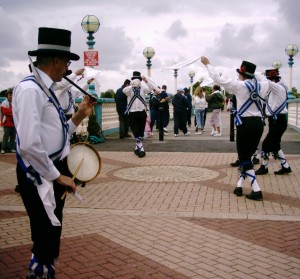 Page 1 of 4