Photos by Patrick Trollope
THE Marine Way Bridge was opened yet again, this time by Prince Edward and his wife Sophie. The public started to arrive at around seven thirty in the morning, eager to glimpse the couple. Sadly, not all wanted to just take a look, as a high spirited teenager nearly put the dampers on the event by waving what looked like a gun around. Luckily he and his rowdy companions were moved on some 30 minutes before the arrival of the Earl and Countess of Wessex to the round of applause from the now large crowd surounding them.

Prince Edward first had a tour around the Eco-Centre. He then took a ride on the temporary pier train and followed by a stroll along the top end of the pier before being taken back on the pier train to open the Marine Way Bridge.

On the way he stopped off to look at the skate park and joked with skaters Joe Steele and Andy Williams from Sk8er. He then proceeded to the bridge and was welcomed by massive cheers. He joined his wife, the Lord Lieutant of Merseyside, the Mayor and Mayoress of Merseyside, Councillor Richard Hands, Councillor Mark Shaw and MP John Pugh to officially unveil the plaque. The young schoolgirl Rebecca Petrie from Chuchtown Primary School who originally opened the bridge, handed over flowers to the Duchess and then a short speech was made and the plaque was unveiled. The couple then walked around shaking hands of the crowds. Later, they were driven over the bridge into town where they were given lunch at the Town Hall and then taken to meet staff at the Botanic Gardens, before going on to Liverpool Cathedral.

One member of the public from Churchtown, Sam Jones said, "It was a fantastic day. Lovely sun and such a relaxed atmosphere. The Royals were so friendly and the security was amazing, relaxed and yet vigilant. This is what Royal visits should always be like." His wife Victoria said, "Thank goodness though, yobs at the start of the day did not spoil what was a very rewarding and pleasant experience. I think the police and security services deserve a lot of praise for the way they handled the proceedings."
Page 1 of 6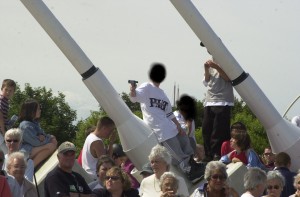 Very silly lad trying to amuse friends. Enlargement of above photo.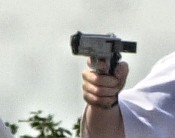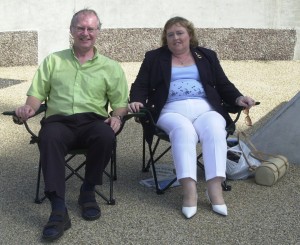 These two had waited since 7:30am to see the Royal duo. Joined at 8:00am ish by the group below.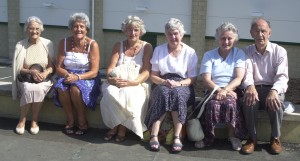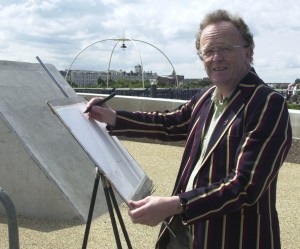 Local artist makes his first draft above.
Page 1 of 6