BUS COMPANY LAUNCHES SHOPPING OLYMPICS
AS OUR athletes battle it out in Athens, local bus company, Arriva, is launching a campaign to bring Olympic-style shopping feats to Merseyside.

Arriva, which operates routes across Merseyside, will be hosting a shopping triathlon on a specially prepared bus towards the end of August. The triathlon will involve events that are suitable for shoppers from all walks of life, from ages 7 to 70!

Bob Hind, managing director of Arriva North West and Wales, explained:- "We thought it would be good fun to challenge the energy people put into shopping into a triathlon to celebrate the Olympics. And whilst it's meant as a bit of fun, it does have a more serious message. Encouraging bus use for town centre shopping has benefits for shoppers and traders alike. Anyone who takes part will be awarded a medal that will allow them a day's free travel to make their trip to Merseyside's town centre shops even more value for money."

The triathlon events consist:- Sprint for the Sales, a knowledge based sprint for bargain hunters; The Shopping Bag Lift, a timed trial of stamina; and The Basket Pack, a test of hand to eye co-ordination.

The campaign is being run to mark the launch of Arriva's autumn 'Going Your way' campaign to highlight the benefits of using the bus for Merseyside's town centre shopping trips. A huge number of shoppers in the centre already use the bus and by increasing this figure further the town will see improvements to safety, environment and road congestion. Timetable information and discount vouchers will soon be delivered to households throughout the region.

Merseyside's residents are already hard into their strenuous training routines for the events with shops this weekend reporting above average trading for the time of year. Bob said:- "People wanting to take part in the 3 minute event should call our hotline, and tell us why the event should happen in their town. The town in the region with the most votes will see the event being held at a bus stop near them, at the end of August."

To nominate your town for the Bus Olympics, call the Arriva hotline on:- 0121 362 4060.

TEST your knowledge out with our online history and general knowledge quiz. Play it for free today and see how you get on! "Go on!"

ST HELENS SCHOOLS TO TAKE PART IN SHAKESPEARE SCHOOLS FESTIVA
16 SCHOOLS from around St Helens take to the stage for the Shakespeare Schools Festival.

In October 4,000 students from the North West will take to the stage of some of the region's premier theatres to put on a performance of a Shakespeare play. This will be some feat given that the vast majority have never performed on a professional stage before.

16 schools from around St Helens are taking part and will all perform at The Theatre Royal in St Helens from 5 to 8 October. A packed house is expected f or the half hour productions that include Twelfth Night, Taming of the Shrew, Macbeth and A Midsummer Night's Dream. If you would like details of the schools involved then please get in touch and we can provide you with this information.

This is all part of the Shakespeare Schools Festival, happening across the region giving pupils the opportunity to work together to bring to life their own creativity and the words of Shakespeare.

The festival will span 22 different local authorities, 16 professional theatres will host performances by 150 schools, and some 4,000 young actors will make their debut in the country's largest celebration of Shakespeare.

Cheshire Building Society has partnered with the Shakespeare Schools Festival to deliver this programme of activity to the North West. Society staff will be helping out at the theatres and branches will be publicising the performances.
Crosby Off Licence Robbery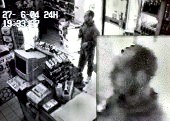 MERSEYSIDE Police have released a CCTV image of a man they want to speak to in connection with a robbery in Crosby.

On Sunday 27 June 2004, a man walked into Huttons off licence on Bridge Road just after 7:30pm and produced what is believed to be a brown handled knife with a 10 inch blade. He demanded that staff open the till and hand him the contents .

The offender is described as 5ft 4in tall with a slim build and very short, cropped hair. He was wearing a light blue tracksuit.

Although staff were shaken, no-one was injured during the incident and the offender left with only a packet of cigarettes and £5 in cash.

Anyone who witnessed the incident or can identify the offender is asked to contact Crimestoppers on 0800 555 111.