SOUTHPORT FLOWER SHOW BOOKS ITS PLACE IN HISTORY
SOUTHPORT FLOWER SHOW is booking its place in history with a permanent reminder of its 75 years as the largest independent show in the country.

To mark the anniversary it is publishing a new coffee table book that traces the story of how the event has blossomed to attract over 100,000 visitors a year.

The seeds for the new book were sown by Objective One funding from Business Link for Greater Merseyside which subsidised PR company support for the design and production of the glossy 62-page publication.

Judy Haselhurst, the Show's marketing manager said:- "This year's event will be bigger and better than ever before and we hope to go on building on our success.

The book will play a part in this while the PR support from Paver Downes Associates also includes promoting the Show, conducting market research and providing photo displays around the site."

The book is due out shortly before the show which this year runs for four days instead of three, from Thursday August 19 to Sunday August 22.

Business Link for Greater Merseyside adviser Ian Marshall said:- "The Southport Flower Show is one of the major events of the summer and we're delighted to be investing in its future in this way.

The Objective One funding we've made available has also provided help from Grant Thornton to develop a strategic approach that will secure the Show's long-term future."

The first event attracted over 40,000 visitors and was hailed 'Southport's Great Show'. Over the years the Show came to provide a steady boost for the town in publicity, prestige and image and established itself permanently at Victoria Park.

When in 1986 Sefton Borough Council could no longer afford to stage it, a group of local businesses and gardeners came to the rescue by forming the Southport Flower Show Company.

The Show was given extra security in 1994 when Sefton Council granted a 60-year lease on the site for a token rent of one bouquet, which is presented each year to the mayor or mayoress of Sefton on the opening day.
Carling Academy
AT the Carling Academy Liverpool, 11-13 Hotham Street, Liverpool on Satuday 21 Aug Chione plus Mojave Collective, Reece & Special Guests. Tickets £6.00adv. Also on at the Carling Academy on Tuesday 24 Aug The Dirtbombs plus Special Guests. Tickets £7.00adv
Local Licensee off on a Mini Adventure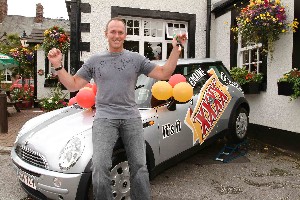 A LUCKY Birkenhead licensee is celebrating after having scooped a top prize thanks to a Castlemaine XXXX competition.

Mark Johnson, of The Waterloo Hotel is now the proud owner of a Mini One. "I already feel like the luckiest man on earth," said Mark. "As I have just got married to my lovely fiancé Jan Gill on Saturday. Winning the Mini is the icing on the cake!"

Geoff Baker Regional Manager for Enterprise Inns said:- "Mark is a worthy winner. He has been at the pub for seventeen years and has built up a strong reputation in his local community."

Mark has decided to give his prize to his wife as a wedding present but couldn't convince her it would make a great honeymoon getaway car.
SUCCESS FOR LOCAL Southport & Formby STUDENTS!
SOUTHPORT and Formby students who graduated from Edge Hill College of Higher Education this year included:- Alan Wood, 46, Southport. He graduated with a 2:2 BSc (Hons) in Design and Technology; Jonathan Forshaw, 24, Formby. He graduated with a 2:1 BSc (Hons) in Business and Management Studies; Lyndsey Smith, 21, Formby. She graduated with a 2:2 BA (Hons) in English Language; Mary E Wilford, 54, Formby. She graduated with a 2:1 BA (Hons) in English; Ian Lewis, 24, Southport. He graduated with a 2:1 BSc (Hons) in Sports Studies; Christine Rice, 53, Southport. She graduated with 2:1 BSc (Hons) in Marketing Information Systems; Sarah Goud, 21, Southport. She graduated with a 2:1 BA (Hons) in English; Jacqueline Rowland, 41, of Fisher Drive, Southport. She graduated with a 2:1 BA (Hons) in English; Janine Rhodes, 42, Southport. She graduated with a 2:1 BA (Hons) in English Language and Literature; Janet Clegg, 48, Southport. She graduated with a 2:1 BA (Hons) in English Literature; Alison Carney, 42, Southport. She graduated with 2:1 BA (Hons) with QTS* in Primary Education and Mathematics; Alison O'Driscoll, 44, Southport. She graduated with a 2:1 BA (Hons) in History; Kimberley Blundell, 22, Southport. She graduated with a first class BSc (Hons) in Sports Studies; Emma Wynne, 22, Southport. She graduated with a 2:1 BA (Hons) with QTS* in Primary Education & John Parry, 29, of Southport. He graduated with a 3rd class BSc (Hons) Secondary QTS* in Design and Technology