Southport's Blind Society goes UP, UP AND AWAY IN INCE BLUNDELL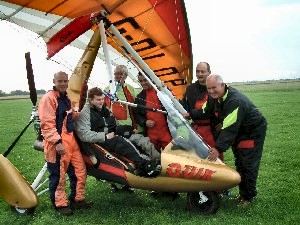 EIGHT visually impaired people took to the dark skies around Formby last night, courtesy of Ince Blundell Flying Club.

Pilots from the club, which uses ultra-light flexwing and three-axis aircraft, treated their passengers from Galloway's Society for the Blind, which is based in Penwortham but supports visually impaired people throughout Lancashire, to taster flights.

Organised by club member and flexwing pilot Dave Gabbott, who lives near the society, the intrepid passengers dodged the rain clouds between Liverpool and Southport after taking off from the airfield just off the A565 bypass.

Twenty-two-year-old Peter Barnes, of Ribbleton, who became visually impaired when he was two but has since completed two parachute jumps, was taken up by pilot Martin Wilson in the 100mph Quik, one of the UK's fastest flexwings.

Peter said afterwards:- "I really enjoyed it although when we made a turn I felt I was going backwards. It was a perfect landing though."

Kevin Griffiths, 40, of Preston, who flew for the first time in his life just last year, was taken up by flexwing pilot Julian Gibson, and said afterwards:- "I got the usual butterflies but it was a very pleasant experience. It was nice and calm up there."

David Rapson, 47, of Blackpool, who was taken up by flexwing pilot Tim Bowles, said:- "I found it a bit nerve-racking at times but it was really good. I thoroughly enjoyed I when I got used to the bumps up and down."

Former British Aerospace worker Ed Watson, 78, who has flown in Tiger Moths and Osters, and has been visually impaired for four years, was taken up by organiser Dave Gabbott and said afterwards:- "It was excellent. He explained everything as we went along, how it all works. I really enjoyed it. It was good to be in the open air for a change."

David Brewin, 56, of Blackpool, who became visually impaired 10 years ago but has still been abseiling and mountain climbing, was taken up by flexwing pilot Eric Paxton and said afterwards:- "It was absolutely fantastic, like being a bird. I would love to do it more."

Organiser Dave Gabbott said:- "Although microlights are one of the most affordable ways to fly, we still feel privileged to be able to do so, so we were delighted to be able to share the experience with the people from Galloway's."

Ince Blundell Flying Club, which run alongside the West Lancashire Microlight School that recently turned out one of just a handful of female flexwing pilots in the country, is run by John North who first got involved in microlight flying in 1972 with the birth of hang gliding.

He soon established himself as one of the top competition pilots in the country, representing Great Britain abroad on several occasions.
Then, as flexwing microlights developed in the early 1980s, John carried his competition interest into microlights and was eight times British team member, twice Round Britain rally winner, and three times in the European Top 5.
BABY BOOM AT LIVERPOOL JOHN LENNON AIRPORT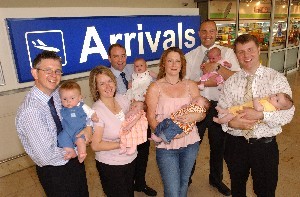 2004 has seen a 'baby boom' at Liverpool John Lennon Airport following the recent arrival of the sixth baby to staff employed in the Airport Company's Management Offices.

Robin Tudor, the Airport's Corporate Affairs Manager started the increase in staff sleepless nights with the arrival of his son Ben, who was determined to be ahead of his scheduled arrival time by being born on the back seat of his car en-route to hospital, in early February.

The other infants thankfully experienced less spectacular entrances remaining on schedule and close to their expected time of arrival. A month later Hannah Brodrick, daughter to the Airport's Business Development Director arrived, to be followed by the Airport's Project Manager, Marcus Scrafton's birth of baby daughter Natalie in April.

Financial Accountant Joanna Hopton then gave birth to her third son, Archie, whilst Director's Secretary Karen Houghton and Engineering Manager Phil Webster completed the 'baby boom' with daughters Keira and Bethany respectively, both being born on the same day in July.

Robin Tudor commented:- "We've checked the drinking water and what's going in the coffee, but can't explain why six out of 27 staff working in the same office have heard the 'pitter patter of tiny feet' in just a 5 month period - though we did notice that all six of us sit at desks on the same side of the building!"

Thankfully from the Airport Company's perspective, the births were evenly spaced out, otherwise the levels of Maternity and Paternity leave could have stretched resources" he continued.
69 Year old Birthday Jumper
A 69 YEAR OLD man from Merseyside is to celebrate his 70th birthday by jumping from a plane. His son has organised the unusual gift which, takes place during Breast Cancer Awareness Month, to raise money for the charity and to allow his father to fulfil a personal ambition.

The charity has recorded a record number of participants taking part in our parachute jumps, particularly in their 40's and 50's and a few in their 60's. However, the 70 year old man is the oldest and the only the man to be participating in doing a parachute jump which lets you freefall at 120mph with only 20 minutes training.

Parachute Jumping takes place every Sunday throughout October. For women and men who want to find out where they can take part in our tandem parachuting events.

For more information, call the events hotline on:- 020 7384 4693 or email:- jump@breastcancercare.org.uk. The minimum sponsorship is £350.
WE NEED YOU HELP!
PLEASE can our readers, and that includes you... yes you... Please let us know what type of sports you want us to cover in the future. Also we would like to know if you have a team you want us to feature. If you do have a team then email us at:- sports@southportreporter.com with your full contact information and send us information about what your team is and how often and location of where you play. Remember this is your newspaper service we are providing you, so use it!