- COMPETITION -
THE MINISTRY OF SOUND IN LIVERPOOL 2004......

SEE THEM LIVE
WE have 2 pairs of VIP tickets to give away to... SMOOVE @ VELVET LOUNGE, LIVERPOOL VELVET LOUNGE on Bold Street in Liverpool City Centre. The gig is on BANK HOLIDAY SUNDAY 29 AUGUST 2004 from 9PM to 2:30AM.

Visit www.smoove.co.uk for more information and to help you with the question! ;-)

NOTE... Dress code:- GLAM AND SEXY.

DJ'S AND MUSIC POLICY, R&B, DODGE, MISTA STRETCH, PLAYA, SEXY OLD SCHOOL HOUSE, COLIN AIREY, JON WOLF and MIKE MALONEY

The BIG question..?

The Tour Manager wants you to name one resident smoove dj? Name one and two tickets are yours!

To enter, you must be over 18. Just send your answer by email with you phone number by 12:00 noon on Wednesday 25 August 2004. The Ministry will then phone you if you win. Place in the subject bar the words "MINISTRY OF SOUND Comp." and email news24@southportreporter.com. Cool or what!?!

Remember get it in before the deadline!
Volunteer Helpliners needed for the Child Death Helpline
DO you have personal experience of losing a child?

Could you offer a listening ear to others who have been affected by the death of a child?
Ongoing training and support provided.

For further information and/or an application form please contact:- Joan Jones, Child Death Helpline, Alder Centre, Alder Hey Children's Hospital, Eaton Road, West Derby, Liverpool, L12 4AP. Telephone 0151 252 5391
Innocent Drinks Visited OUR winners!
ON Wednesday the winners of the Innocent drinks competition got a visit from a unusual drinks van. The British Lawnmower museum said they would mow the van's grass or the Innocent Drink team so the team paid them a visit delivering boxes of drinks and serving some to staff and customers while they were there. Also they had a quick look around the only Museum of it's type in the world.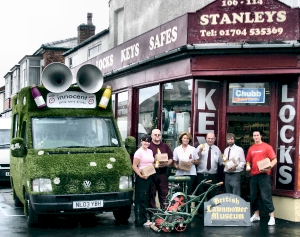 A-Level Results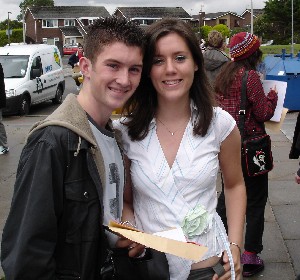 YES it is that time of year yet again... We have to say "Congratulations to all of the students who took there AS and A-Levels this year." We went along to Range High School on Thursday to see the students getting their results The students at Range this year got above the national average of pass rates and staff and students were celebrating their success. If you were one of the ones who did not get the results you had hoped for, remember there are other options still open for you. Don't give up. Read next weeks Southport Reporter for more education information and GCSE results.