STAG AND HEN PARTIES NATIONAL ALCOHOL MISUSE ENFORCEMENT CAMPAIGN
AS summer nears an end, it spells an increase in countless stag and hen parties which hit the streets of Merseyside. With grooms and their brides-to-be parading in veils, L-plates and cheeky fancy dress, the one ingredient deemed essential to all these nights is alcohol.

Sadly, the fun of the night for some parties can result in a tendency to drink far too much and potentially cause the partygoers themselves or others harm. Waking up to hangovers, injury and possible prosecutions for anti-social behaviour leaves little cause for celebration and is on the increase.

As part of the National Alcohol Misuse Enforcement Campaign, Merseyside Police are now working closely with pubs, clubs and off-licences throughout Sefton to clamp down on sales of alcohol to under age drinkers and to people who are already over the limit. From test purchasing to door-staff training, the commitment to preventing problems of alcohol misuse also means that licensees who break the law risk penalties including fines, 24 hour closures and prosecution.

If you are planning a hen or stag do for your mates, don't be disappointed if you get turned down at the bar. It is the law not to serve anyone over the limit and is for your safety and others.

To help you and your pals make the most of your special night out, here' s some advice thanks to Merseyside police to ensure you have a fantastic and safe night out.

Tips for a top night out...

1. Pace your drinking. Look after each other and have a good time, but don't spoil your evening by over-doing it

2. Eat before you go out. It just takes about 10 minutes for 50% of the alcohol consumed to be absorbed into the bloodstream. This is accelerated still further when drinking on an empty stomach.

3. Carry proof of age cards for younger members of the party. They'd hate to miss out if they look younger than they are.

4. Remember it's illegal to buy alcohol if you're under 18, for yourself or your friends.

5. Keep your glasses inside. Many places ban drinking on the streets, like in Southport and Liverpool.

6. If others are getting argumentative, refuse to be drawn in. Just walk away and if it is serious call the police.

7. Book a taxi for the end of the night so you can avoid the crowds.

8. Don't drink and drive. If you want use a car, lots of bars offer a special rate for designated drivers on soft drinks. Ask the bars in advance and have a good safe night out.

9. Stick together to make sure you're all safe.

10. Take a phone with you, so if you do get separated you can call each other to let each other know what's going on.
Southport Martial Arts Expert get a Kick Start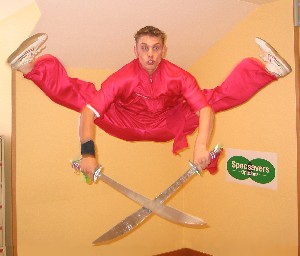 A LOCAL optician's has its eye on a martial arts champion by sponsoring him in his quest to win the European Wushu Championships next month.

After receiving backing from Specsavers Opticians in Southport, who are funding his trip to the tournament to be held in Moscow, Andrew Lister, from Ainsdale, is now making sure he's fighting fit to represent Britain.

Andrew, 22, has been practising Wushu, a form of martial arts used in the Matrix films and by kung fu legend Jackie Chan, since he was 15. His dedication has paid off with Hollywood noticing his talent and signing him up to appear in the next Batman film, due out next summer.

Andrew has also recently proved his worth in the British National Championships, held in June, by taking home two gold and two silver medals. He received gold in the Broad Sword Fight Scene and Choreographed Fight Scene categories.

Andrew, who is currently training to become a stunt man, comments:- "I'm really looking forward to representing Britain in the European Championships and am extremely grateful to Specsavers in Southport as the team there has made it possible for me travel to Moscow.

I first got into Wushu through my love of kung fu films and never thought then that it would bring me a part in a Batman film, and the chance to represent Britain in the field."

Stuart Roberts, Specsavers' store director added:- "Andrew is a regular customer of ours, so when we heard he was looking for a sponsor we were only too happy to help. We're rooting for him all the way and are extremely proud that he is a Southport local."

Wushu is the national sport of China. There is currently a campaign running to make Wushu part of the 2008 Olympics, which are to be held in China.
Photos with thanks to

Specsavers...