HOME OF LENS LEGEND TO OPEN
A unique insight into bygone Liverpool now has a permanent home, thanks to a partnership between the National Trust and the city council.

The home of portrait photographer Edward Chambré Hardman on Rodney Street is a time capsule of Liverpool life during the mid 20th century.

It contains an extraordinary archive of 142,000 images, together with a wealth of personal material.

In 2000, the E. Chambré Hardman Trust, which owned the collection at the time. He announced it was running out of funds and the city council stepped in with financial assistance to maintain the archive.

The cash provided a breathing space while a longer term plan was worked out.

The future of the archive was secured in 2002 when the National Trust acquired the house, studio equipment and photographic collection as part of a £1 million project of which £928,000 was funded by the Heritage Lottery Fund.

The city council's Record Office has been helping to conserve and archive the photographic collection ahead of the opening.
Christine's mighty Mersey swim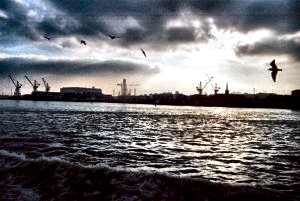 THE tragic deaths of two family members and a work colleague – all from lung cancer and all within the space of just over a year has led Wallasey woman Christine Hendrie to tackle the challenge of a Mersey Swim for charity.

Christine, aged 47, will tackle the mighty River Mersey on Sunday, September 12 in aid of the Roy Castle Lung Cancer Foundation. Avoiding ferries and other such obstacles, Christine expects to complete the swim in about an hour, depending on the strength of the current.

Currently in training with a group of triathlon competitors who regularly swim in the Albert Dock, Liverpool, Christine often swims three miles and is confident of success.

Christine says:- "Within just over a year between 2002 and 2003 I lost my father-in-law Dave Hendrie, my cousin Bernadette Shaw and my workmate Anita Hawkins all to lung cancer. That is why I want to help the work of the Roy Castle Lung Cancer Foundation with this sponsored swim. I hope to raise several thousand pounds which can be used to help people living with this dreadful disease."

Christine will be supported in her attempt by a motor boat and a canoe, following close behind for safety.
Trust joins hundreds around England for national NHS careers job shop day in Southport
A special Job Shop event is being held by Southport & Ormskirk Hospital NHS Trust on 22 September at The Arts Centre, Lord Street, Southport between 10am and 4pm. John Cooper of Dune FM will formally open it at 10am.

This Job Shop is one of hundreds of events being held all over England as part of the NHS Careers National Job Shop campaign, now in it's fourth year. Since the first campaign, around 50,000 people have visited Job Shops to find out more about careers in the NHS.

The Job Shops 2004 campaign is designed to enable NHS organisations to focus on immediate and future local and regional recruitment needs. This includes offering detailed information to anyone who may be interested in an immediate vacancy, as well as people of all ages looking for a new or second career who need advice on training opportunities. The Job Shops will also be hoping to attract those who might be considering returning to work in the NHS, and people who may be deciding on a career change who would be able to utilise their existing skills within the NHS.

On hand at the Southport Job Shop will be local representatives from many of different jobs and careers available. This means that not only will visitors be able to find out exactly what any particular job or career entails, from where to start training to career progression, but that the people they will meet will know about their local area.

Southport & Formby District General Hospital currently has vacancies for Radiographers, Nurses, Physiotherapists, Occupational Therapists, Catering and Housekeeping staff.

Sheelagh Windrum, Employment Co-ordinator for the Trust said:- "The beauty of this campaign is that we can adapt individual Job Shops to suit individual local needs.

There has never been a better time to join the world's third largest employer. Today's NHS offers flexible, family-friendly hours, improved access to free returner and refresher courses for ex-healthcare professionals, financial support during training or re-training, professional career development and mentorship schemes, better pensions and benefits, and improving diversity amongst the workforce.

Whatever your age, skills, qualifications or experience, we encourage anyone to visit our Job Shop on 22nd September to find out what the NHS can offer them. We want people to be able to fit their work around their lives and not the other way around. Meeting and talking with staff at the Job Shops will give them a chance to find out exactly what any particular job or career entails. A visit might just change their life, and enable them to go on to save others!"

To find out about your nearest Job Shop or for further information about jobs and careers in the NHS, contact Sheelagh Windrum on 01704 704810 or the NHS Careers Hotline on 0845 60 60 655.

Issued by Matthew King, Southport and Ormskirk NHS Trust.