A chance to learn about eczema during National Eczema Week (18 to 25 September)
Eczema is a common skin condition that affects one in 12 of the adult population and on firth of children in the UK. Because of this, the Trust's
Dermatology Team are offering help and advice during Eczema Awareness Week
between 18 to 25 September.

Staff have organised an open afternoon at Asda Supermarket, Derby Road, Southport on Thursday 23rd September between 1.30 and 4.00, where people can pop along and get some help about eczema.

Information stands will also be put up at both Southport and Ormskirk Hospitals throughout the week, to raise awareness both about the skin
condition and how to help sufferers live with it.

Sue Wood, Dermatology Specialist Nurse, said:- "Eczema is a very common skin condition and although it is not usually life-threatening, it can be very uncomfortable for sufferers. Red, inflamed skin can feel very itchy and can make people scratch, causing bleeding and sometimes infection. Eczema can also make people feel awkward and avoid going out when it is visible.

Although there is no cure for eczema, treatments can help people manage the condition, which is why we would encourage people to come to the open afternoon to find out about eczema, tell people what treatment options are available and to raise awareness."

Some facts about eczema

* There are several different types of eczema, the most common being atopic eczema, which affects both children and adults and is closely associated with asthma and hayfever.
* The causes of eczema are unknown, but many people know what triggers it off for them.
* Irritants include rough fibres, perfume, preservatives, chemicals, diet, stress and changes in temperature or environmental factors.
* Symptoms include red, inflamed skin, feeling hot and itchy, and dry, cracked skin.
* Treatments prescribed can act as a barrier or seal and topical steroids are sometimes needed when a 'flare-up' occurs. They act by reducing inflammation.
* Those who have eczema should avoid possible irritants, such aswoollen clothing, and reduce the effect of house dust mite.
* The National Eczema Society provides practical information, support and advice to people with eczema. If you would like more details take a look at their website at www.eczema.org.

Issued by Matthew King, Southport and Ormskirk NHS Trust.
THE BIRTHDAY PART ONE. HEAR ANOTHER YEAR!
SATURDAY 25 SEPTEMBER 2004 FROM 9PM TO 4AM Only at the CARLING ACADEMY in LIVERPOOL
....ARMIN VAN BUUREN....
LISA LASHES / ABOVE AND BEYOND / TIDY BOYS JON O'BIR / HINSLEY

Tickets £17.50 in advance.
DISCOUNTED £15 NUS ADVANCE TICKETS TO BE AVAILABLE THROUGH TICKETWEB/VENUE BOX OFFICE ONLY!
Carling Academy Liverpool is at 11 to 13 Hotham St, Liverpool.
Merchant Navy Day
Photographs by PatrickTrollope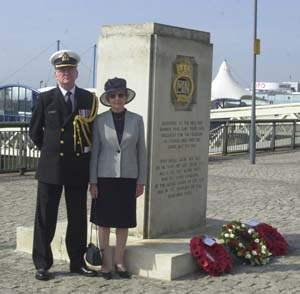 ON SUNDAY 5 September in the afternoon, the Merchant Navy's Annual Service of Commemoration took place at Liverpool's Pier Head. The service was opened by Rector of Liverpool, Rev. SD Brookes. Alongside readings, prayers and hymns in this very moving service were contributions by the Sefton Singers choir and the folk group Travelling People. Wreaths were laid at the memorial. Amongst the congregation were Commander John A Creber CD, the Canadian attaché based in London, various local dignitaries, representatives of many Merchant Navy Associations and past and present seamen and their families, many of whom had travelled a distance to attend.

Regrettably this year's commemoration was marred by the too close proximity of this year's cycling event. This was distracting and had the unfortunate effect of limiting the space around the memorial making the parking more difficult, especially for the more elderly veterans. Traffic diversions had also created problems. The band was delayed and did not manage to reach the event. Feeling in some quarters were understandably running high. One ex-seamen expressed the hope that future clashes might be avoided. No one was against the cycle race, or similar events but Merchant Navy Day is an annual event and avoidance of conflicting activities in the vicinity of the memorial would be appreciated by all concerned.