TV SHOW IS JAN'S ICING ON THE CAKE
GIVEN a natural creative flair and a willingness to learn, it will usually take at least 12 months for one of Jan Hegarty's students to pick up the necessary skills to decorate a basic wedding cake.

But for a TV challenge, which was filmed in August, Merseyside-based cake decorating tutor Jan did not have the luxury of time. Jan, 58, had to cram her normal year-long course into just 3 hours.

The BBC2 show, to be broadcast later this month, set a couple the daunting task of paying for their wedding on a shoestring budget - and one of the cost-cutting ideas was to make their own wedding cake.

Step forward Jan, one of Merseyside's most well-known cake decorators, who tutors students at more than 25 classes in Rainhill, Eccleston (St Helens), Ditton (Widnes), Childwall and Roby.

The filming schedule only gave Jan 3 hours to teach the couple how to decorate a cake for their special day. Jan said:- "My students would usually be in their second year before they'd feel confident enough to decorate a wedding cake. To have just 3 hours was incredible - but we gave it our best shot and the couple did well."

Jan has agreed not to give the game away on whether the couple completed the task, but said:- "It was a great experience. This was the first time I've appeared on TV so it was quite nerve-racking, but it went very well. We had a lot of fun in those hectic 3 hours!"

Jan added:- "The BBC phoned me to ask if I'd take part. They had been directed to me by some of my former students. This is another string to my bow as I continue to build a success of my own business."

Jan's business is a remarkable triumph. Its origins are in a buffet-making enterprise that Jan set up in the early 1990s, to supplement her income as a full-time lab technician at Rainhill High School. Jan soon spotted a gap in the market for individually-designed and crafted cakes for special occasions and switched to this side of the industry.

Then Jan made the bold decision to leave her full-time job and put all her resources into the business and she hasn't looked back since.

Now 10 years later, Jan is delighted to be tutoring more than 25 classes at different venues across the local area.
Flaver Photographic Display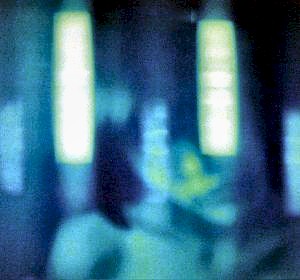 IF you are out or a drink, call in to Bar Flavor. The bar has a display of photographs taken by local University student Jolyon Warlow. The shots are very interesting, full of cinimatic undertones that remind you of the old cinma film introductions. Jolyon told us that "I set out to achive a unique interaction between the photographs andf the viewer. I wanted to form a relationship between the two. If people dislike my work or if they like it, it does not concern me. I wat to evoke an emotion and that is my concern."

The images are interesting and well worth a look.