THE BRITISH MUSICAL FIREWORK CHAMIONSHIPS 2004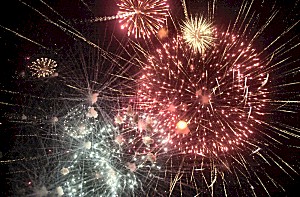 Photographs and report by Patrick Trollope.
THE SOUTHPORT night skyline was light up as thousand of fireworks were blasted into the sky on Friday 8 October. The reason was simple; it was the fist night of the competition between the UK's leading firework display companies to win the prestigious accolade of British Musical Fireworks Champions 2004.

The event on the Friday night was a bigger success than the organisers expected and even with the added room, thanks to this year's display being held on the beach, the massive crowds were still overwhelming. This left some struggling to see the start of the display as they waited in queues to get in. So if you are popping in to see the next set of pyrotechnic wizardry on Saturday 9 October… come early. That way you will avoid the queues! Despite this small setback and a few others that the firework teams had, thanks again to the weather, the first night of the two-night spectacular was amazing. A lot of work goes into synchronising fire and music and this makes this show one of the best in the world. This type of display is seldom seen anywhere in the world at this standard and this year what a standard it has been so far!

Setting light to the touch papers on Friday were first up Dragon Dynasty Pyrotechnics with a stunning and ear pounding end to their display, then Spitfire Pyrotechnics took to the firing line and let off a dazzling display that kept the sky alight for the hole of their allotted time. Last up were new comers, Walk the Plank, who put on a very artistic display to a very unusual choice of music. All the contestants were so defend in styles and musical selection, that it will be hard for the judges to compeer them. To top it all if this was the standard that the other teams still to come are at, then I do not envy the judges this year… They are in for a long night of debating as to who will get the award…
For our full and in-depth coverage and massive photographic report, log on to next weeks edition.