ASDA COLLEAGUES 'STEP BACK IN TIME'
MONDAY October 11 will bring back memories for colleagues at the new £30 million ASDA store in Huyton will be rolling out the red carpet to welcome their 'long service colleagues' who will officially open the first ASDA supercentre in Merseyside.

A whole host of colleagues who witnessed the first Huyton ASDA open 27 years ago will cross over the road from the old store, to the new, where they will cut the giant till roll and announce the new split-level store officially open.

Customers who were photographed at the opening of the old store all those years ago are being invited along to the opening day to join in the fun and celebrations as the doors are opened to the public for the very first time.

Store manager Paul Rowland thought it would be a fantastic idea for colleagues to open the new store, "At ASDA Huyton we have a lot of colleagues who were here for the original store opening 27 years ago.

These colleagues have been with us through an awful lot and we're delighted that there are so many of them still working with us all these years on. It would seem only right for them to welcome the people of Huyton through the doors of their new store."
Attempted Abduction in Bootle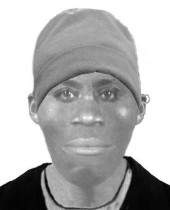 MERSEYSIDE Police released an e-fit this week of a man they want to talk to following an attempted abduction in Bootle on the morning of 29 September at 8.20am.

A 10 year old girl was walking along Ainsdale Road near to the junction of Monfa Road on her way to school when she felt a pull on the back of her coat. She turned around and found a man holding onto the arm of her coat. He asked her for the time before trying to pull her into a nearby alleyway.

At this time an older man was walking alongside on the opposite side of the road and shouted "stop, leave her alone". The offender then left the girl and walked away along Monfa Road. The girl ran off to school where she reported the incident.
The offender's e-fit is above and his is described as being black, about 5'10" tall, 35 to 40 years old, of medium build and with unusually staring eyes. ....
.....continued..... He had a gold stud earring in the top part of his left ear and an earring in the bottom right ear. He spoke with a non Liverpool accent. He was wearing a black scruffy woollen hat, a black long sleeve jumper with white t-shirt underneath and black Nike tracksuit bottoms. He was wearing old white trainers which had mud on them and black leather gloves. The girl was left uninjured but shaken by the incident.

Detectives in Copy Lane are now appealing for the man who helped the girl get away to come forward. Also, anyone who witnessed the incident or can identify the offender is asked to call Crimestoppers on 0800 555 111.
Local Lad Meets his Match
THE construction industry is facing its biggest ever threat as it becomes the latest victim of a UK wide skills shortage and according to new research from industry leader Tarmac, only 1% of the North West's school leavers would choose a career in construction.

An estimated shortage of almost 370,000 workers has done little to tempt school leavers away from jobs in media, IT and the arts - Leaving future regeneration and infrastructure projects hanging in the balance.

When choosing a job we are most likely to consider how much prestige it has and according to the survey, manual construction work is considered the least attractive compared to electricians, plumbers, teachers or a job in the armed forces.

The least popular types of construction work are quarrying, roofing or scaffolding and the preferred roles are brickies, plasterers and joiners. 70% of people in the North West admitted to being put off by a job in construction because it is physically challenging or hard work and others consider it dirty, badly paid or just plain uninteresting.

Jeremy Hilliard of Tarmac, said:- "The construction industry is heading towards a severe skills crisis unless we can improve the image of construction work. We've got a massive job on our hands to find 370,000 workers by 2007. Adding to this issue is succession planning - thousands of construction workers are reaching retirement and there are very few generations of construction workers coming through."

The attitudes of young people are of most concern and reflect the increasing unpopularity of a career in construction - Over half (57%) of young people regard construction work as a low value job seeing other potential jobs such as media and journalism as their dream job. Others would prefer a career as a lawyer or accountant (19%) or even a job in IT (15%) but only 2% said they would opt for a job in construction - leaving a dangerous imbalance.

Jeremy Hilliard continues:- "Ninety per cent of people feel that the education system does not support a career in construction and this is something we must address. Together with commercial partners, we have an instrumental role to play in encouraging young people to take up vocational courses in construction work and to consider it a worthwhile choice alongside IT, professional services and the caring professions.

Brick-laying and carpentry skills should be regarded as just as important as the ability to use the latest PC software and for those that want to use their hands - the job prospects are there."